TIGHT DEADLINE FOR PEOPLE WISHING TO MAKE PRESENTATIONS TO BOARD OF REVIEW IN YOUR WARD NEWS CASE
Don't ever let them get away with saying Canada is a land that protects free speech. Tell that to political prisoners Brad Love or Arthur Topham punished under the "hate law",  the notorious Sec. 319 of the Criminal Code. Tell that to the editor and publisher of YOUR WARD NEWS, a satirical Toronto newspaper that flays Zio-Marxism and political correctness. The dull dog neo-Puritans of political correctness cannot abide humour.
There are other ways a freedom-hating state can gag you. After several years of complaints by professional anti-racists, homosexual activists and that chronic minder of other people's business and self-appointed monitor of what you should or shouldn't be able to say in print of on the Internet, Richard Warman, Judy Foote, Minister of Supply and Services issued an interim prohibitory order against YOUR WARD NEWS Editor Dr. James Sears and publisher Leroy St. Germaine. They could not legally use Canada Post at all. Their right to use the service and near-monopoly taxpayers have subsidized since Confederation was arbitrarily stripped away.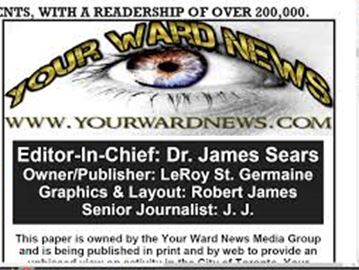 However, they were entitled to a "review" of the order. Here's how a slow repressive system chokes rights. Justice delayed is Justice denied. The prohibitory order, halting the distribution by mail of YOUR WARD NEWS was issued May 26. Now nearly 10 months later a three person review board has been struck. Its members are Fareen Jamal, Elizabeth Forster and Peter John Loewen
Members of the public have until Friday, March 31 to sign up to make a submission during a hearing that will review the federal government's interim order to stop delivering controversial east Toronto-based tabloid, YOUR WARD NEWS.  The right to review the order falls under subsection 43(1) of the Canada Post Corporation Act.
Persons wishing to make submissions to the Board have until this Friday, March 31 to advice the Board. The Board will meet April 10 to discuss these requests and other organizational matters
The Board will then determine applicants' standing to participate and will notify those selected no later than a month before the first hearing date, which has yet to be determined.Anyone who believes they are affected or anyone with an interest in the matter must  send a letter (maximum one page in length) summarizing the submission they wish to make to Board of Review, c/o Fareen L. Jamal, Jamal Family Law Professional Corporation, 2010 Winston Park Dr., Ste. 301, Oakville, ON, L6H 5Rl or by email at contact@BoardofReview.ca.
CAFE has already sent in a request for interested party in these proceedings.
In a March 27 letter to the Board CAFE Direector Paul Fromm noted:  " Freedom of speech and expression, which are our mandate, are very much at the heart of the matters to be decided. As well, your Board must consider issues of fairness and natural justice in the exercise of the Minister's powers in the matter affecting the publication YOUR WARD NEWS.
CAFE has over 30 years of experience intervening in tribunals and court cases on issues of freedom of expression and this expertise may be of some assistance to the Board of Review."