CALM INSPIRING LETTER FROM POLITICAL PRISONER AND FREE SPEECH MARTYR MONIKA SCHAEFER TO BRIAN RUHE

Letter #5 
28 June 2018 
Dear Brian, Thank you for your letter from April 5/6th. It came to me May 31st 55 days later almost 8 weeks. That has been pretty standard lately. I appreciate the group letter too. Please tell our friends thank you for their thoughts and prayers. 
It is almost the eve of when things are getting going, and I suppose by the time you read this, it will all have been determined. Actually, I am quite certain it has already been determined but there will be a show anyway. "They" really are clamping down now aren't they – taking down your Youtube channels. The cowards! I feel I am almost being sheltered from all the stuff going on out there, in so far as "the news" goes. Of course, I can get the mainstream news on radio and can interpret some of what is happening through my red-pilled lenses, but I am sure I am missing a lot. Perhaps that's okay while I'm here. I do pick up a few things from what people write to me and I appreciate that.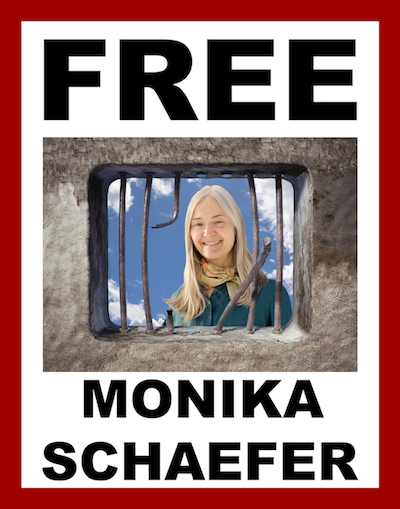 Yes, I have lots of stamps so please don't worry about that. They are also giving me a hard time about the cash donations being sent in letters, so it's better to discourage that. There is an account that money can be transferred into, but right now please don't worry about it – I have money in my account. Let's wait and see what happens in the trial. Anyway, I notice they get mad at me every time they make mistakes in their receipts and accounting etc. I have never accused them of anything, but they must get flustered when there are a bunch of open letters in front of them, some cash, and then they realize – oh-darn, where did this come from? Which letter was it in? Then they take a wild guess – and I can usually figure it out afterward because people generally state it in their letters that they're sending 10 Euros or 5 Euros or whatever (it is good that they do that). But hey, I am NOT encouraging it! Now I can honestly tell them that I am trying to inform the people not to send cash (no cheques, either, please, as these would really not help until I get out and who knows when that is). 
I am feeling quite calm and strong. Also preparing myself for the wrath of a certain group of chosen people. Sending love, Monika 
P.S. No matter how much wrath they have and no matter what they do, no matter how hard they try, they can NEVER transform their fictions into fact. And they will never extinguish the Light of Truth. Amen.