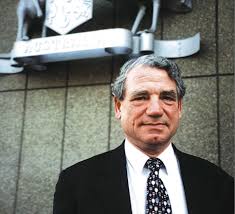 Earlier today, we received this sad news.
"|Dear friends,
This is to let you know that Fredrick Töben passed away at about 6:00 am, German time, June 29. He died of a gallbladder complaint. He had been ill for two months. Fredrick´s birthday was on 2. June. He was born in 1944.  He was 76 years old. He will be cremated in  Sydney.
RIP Fredrick Gerald Töben, you tried your best but only God can win the fight against the enemies of God. "
Dr. Toben visited Canada several times and was sponsored as a speaker by the Canadian Association for Free Expression.
He founded the Adelaide Institute. He dedicated half his life to fighting the vitriol, lies and hatred against his German people.
The anti-free speech Australian Jewish lobby had him charged and jailed for his historical skepticism about the Hollywood version of World War II.
Canadian videographer Brian Ruhe comments: " I just got the very sad news that Fredrick Toben died in Australia at age 76. He was a great revisionist of Holocaust history and went to jail for it. I did a few videos with Fredrick in 2017 and will re-release those. We e-mailed back and forth over the years and I was trying to get him back on. I am planning memorial videos with those who knew him."