Ottawa Thought Police Will be Out in Force to Harass Dominion Day Freedom Rally
[It's all political. No such warnings were issued when the anti-White Black Lives Matter descended on Ottawa in June, 2020 when there was a ban on gatherings.]
Ottawa to police "racist, homophobic, misogynistic signs or speech" on Canada day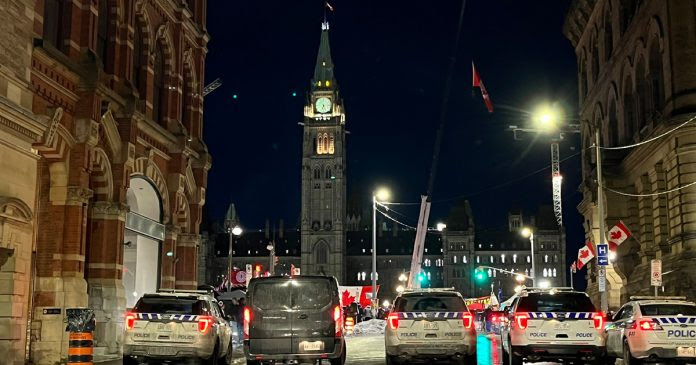 The Ottawa Police Service put out a stern warning on Tuesday saying that it will be on the lookout for "racist, homophobic, misogynistic signs or speech" during this year's Canada Day celebrations. 
A spokesperson with the force said that communicating any such messaging either verbally or in another fashion could lead to criminal charges. 
"Communicating (words spoken or written, gestures or signs) homophobic, misogynistic, and/or racist messages in a public place will be investigated and can lead to various criminal charges including public incitement of hatred Sec 319(1) of the Criminal Code of Canada," said Cst. Mike Cudrasov. "These will NOT be tolerated." 
On Monday, interim police chief Steve Bell told the Ottawa Police Services Board that law enforcement would "actively respond to" these messages and cited concerns about Freedom Convoy-associated groups and other protest movements attending the event.
"We know the scars our community feels from the days in the end of January, beginning of February, where there was all of the negative interactions with people who were attending and occupying and illegally protesting within our streets. We've heard those," said Bell. 
"We've listened to those. And I want to reassure you that those feelings, that trauma that our community has felt, is front and centre in all of our planning efforts and will be front and centre in our response efforts."
Fencing has been set up throughout the parliamentary district in anticipation of Friday's events. 
Freedom organizers have planned events to welcome Canadian Armed Force Veteran James Topp as he arrives at the Tomb of the Unknown Soldier after trekking across Canada to protest Covid-19 mandates and restrictions. 
The Supreme Court has also seen its security ramp up with signs warning that camping or sleeping on the property is not allowed. 
"No person shall occupy, reside, camp or sleep in or upon any public work or use any vehicle for the purpose of occupying a public work or residing, camping or sleeping thereon," a sign states.