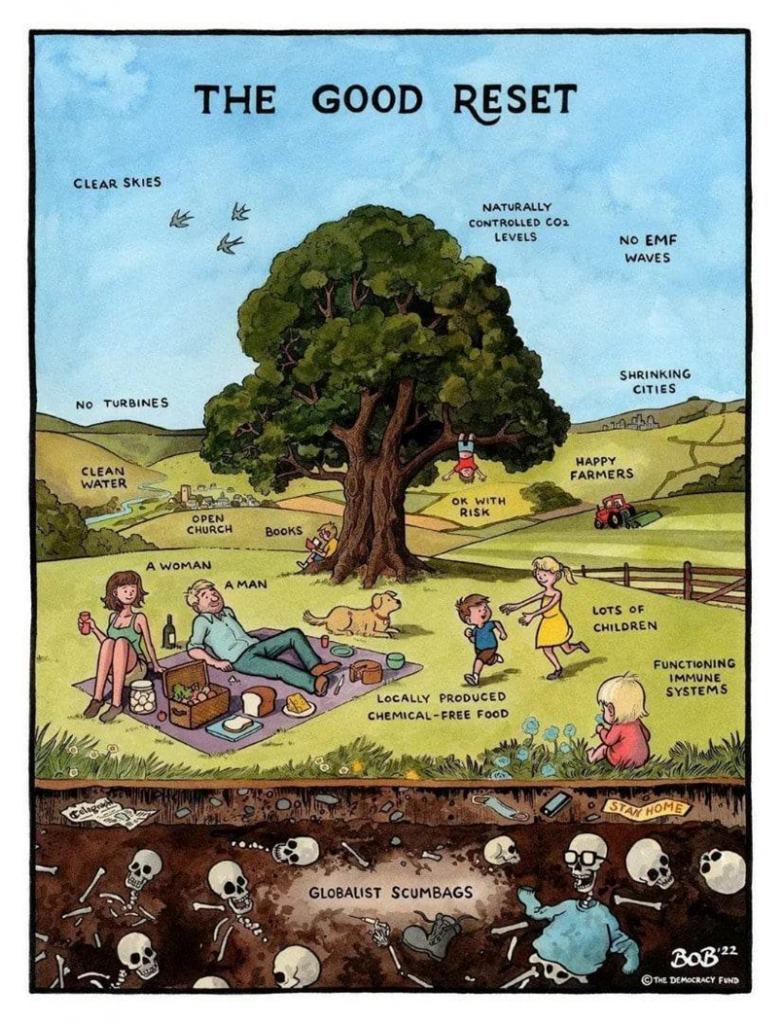 The events of 2022 have raised our awareness of the Great Reset plans. To strike from many angles to keep us off-balance, appears to be their ongoing strategy. At the same time, it weakens any one of those WEF tactics by spreading themselves so thin that they are unable to implement fully, and by their tactics becoming so extreme and ridiculous, that every day more Canadians are waking up and rising up. For any new attack that comes our way, there is some group or other formed to lead the charge against it. Our Penticton4Freedom mission is to continue to provide information about such initiatives and to encourage your support for them. A small contribution from a large number of people is what makes all the difference, helping to move the pendulum toward freedom, inch by inch, day by day.
2023 offers an opportunity to recharge our batteries and re-focus our energies on the future, starting with this New Year's Day Rally and continuing with a Fresh Start Planning Session later this month. Watch for details in upcoming emails. ——————————- o0o————————————-    
This Sunday, January 1st, the first day of 2023 – from 1 to 3 p.m. Corner of Main and Warren, Penticton. Let's start the New Year with a celebration of the year to come. We had so much fun last week with new friends arriving and a tailgate party. LET'S DO IT AGAIN! 1.    Mary Lou will bring napkins, cups, and hot herbal tea. 2.    Let's each bring some tasty goodies to share. Last week, Del brought shrimp! Yum! 3.    Let's each make one sign that wishes good things to come in 2023 to our drivers-by. –         Mary Lou will also bring 4 or 5 blank signs and markers to make your own. 4.    Bring a friend and enjoy a little New Year's Day fun with your chosen family, if you can make it out on Sunday. 5.    Share good news at the rally. Open mic!    

Miss a week and you miss a lot! Fighting for freedom is more fun with friends. Bring a few.   COMING UP: January 8th Rally – Intentional Communities is our theme, with Lynn and Dan kicking off the rally with some of their research on the subject. Bring your own stories and ideas and let's see how we can strengthen the bonds that hold the freedom movement together.  

OTHER REGULAR RALLIES ·       
Kelowna CLEAR Rallies – every Saturday at noon – Stuart Park, Kelowna ·       Oliver – in front of city hall – Saturdays at 12:30 p.m. ·       
Penticton – Tuesdays at noon, in fro

— ACTIONS OF THE WEEK ·      Support the National Citizen's Led Inquiry  Support for the National Citizens' Inquiry (NCI) is increasing among Canadians. Over 41,000Canadians have signed the petition in support of a truly independent public inquiry into all federal and provincial COVID-19 policies. There is no doubt that this inquiry is going to make history. Your support is needed to make the NCI a success. The initial budget for a cross-country tour of Commissioners is just over one million dollars. Here's how you can help: 1.    Head to the NCI website for all links to action. https://nationalcitizensinquiry.ca/ 2.    Sign the petition yourself. Then send the link to at least 3 friends and encourage them to sign, too. 3.    Suggest a commissioner. https://nationalcitizensinquiry.ca/commissioner-suggestion-form/ 4.    Suggest, or volunteer as a witness. https://nationalcitizensinquiry.ca/witnesses/ 5.    Volunteer. https://nationalcitizensinquiry.ca/takeaction/ 6.    Donate. HERE . Other ways to donate include e-transfer, a cheque by mail, and even cash (talk to Mary Lou about how to arrange the cash option).  Introductions to contacts in the airline, hospitality and audio/visual industry are also welcomed, to help keep major costs of this production.     THANK YOU FOR YOUR SUPPORT OF THIS IMPORTANT CAUSE!   ——————————- o0o————————————-
FREEDOM RISING Newsletter #27
This newsletter contains the latest information and actions of the week. Please read, then share with your family and friends. HERE
——————————- o0o————————————-
Class Action Certification Proceedings in BC
Check this out for the judicial proceedings related to the certification of the class action against Bonnie Henry and the BC government. Here is where you will find the documentation of the multi-day hearing. VIDEO ——————————- o0o————————————-
INSPIRATION FOR THE WEEK
Remember that Freedom Hugs are available at ALL our Penticton4Freedom events!
Let's make this weekend AMAZING!!
~ Mary Lou Gutscher
780-908-0309