Maxime Bernier Hails the Anniversary of the Truckers Freedom Convoy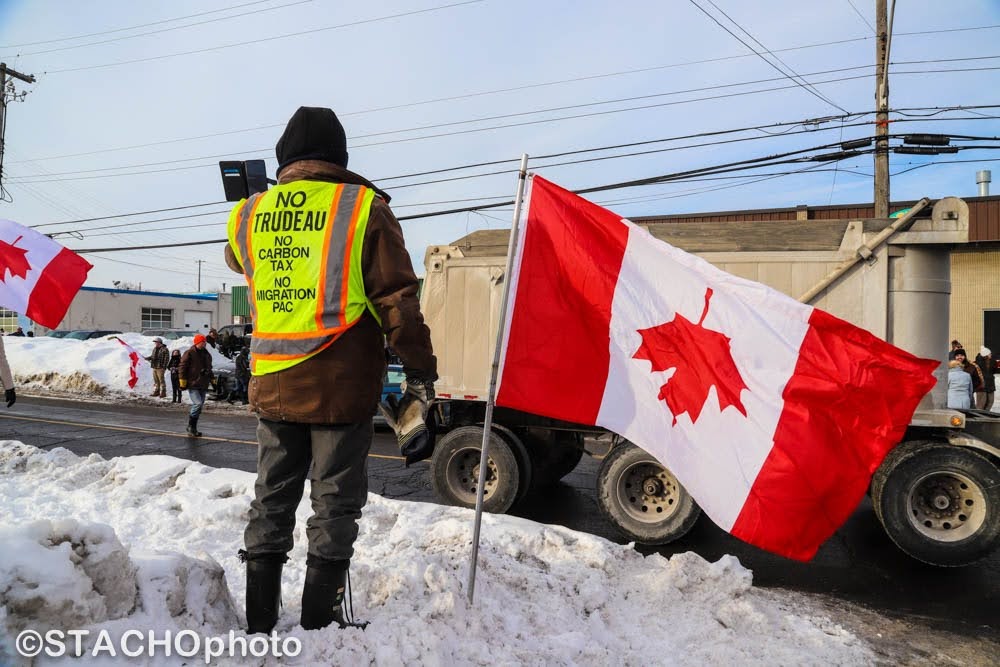 One year ago today marked the beginning of a historic moment in Canadian history.
The beginning of the largest human rights protest Canada has ever seen.
The beginning of the most inspiring act of civil disobedience I have ever experienced.
The Freedom Convoy.
After 2 years of government tyranny, of lockdowns and travel bans, of curfews and stay at home orders, of governments pitting families and friends against each other, of propaganda and psychological manipulation…
Brave Canadian truckers started a movement that would wake up a nation and inspire the world.
Starting in the Western heartland, they drove east. The line of trucks and cars grew as they passed through each city and province.
Patriotic Canadians gathered on highway overpasses, waving flags and raising homemade signs.
A year ago today they began to arrive in Ottawa.
The corrupt hacks and career politicians that walk the halls of Parliament were reminded that these buildings, this country, belongs to us.
They were reminded that Canadians are not just serfs paying taxes to support their insane globalist projects and inflated MP salaries.
We are a proud people not to be treated like slaves or cogs in some broken machine.
Trudeau smeared the protestors as racists and misogynists. "A small fringe minority with unacceptable views".
The fake news media painted it as an "occupation." They claimed the citizens of downtown Ottawa were being "terrorized" and lied about protestors committing arson and other crimes.
But I was there in person. I experienced it first hand.
And I can tell you, it was the most beautiful, peaceful, and patriotic event I have ever seen.
After two years of misery and discrimination, of being separated from friends and family, there was a special sense of love and togetherness in the streets of Ottawa.
People were proud to be Canadian again.
But just as pride and patriotism was resurging in Canada, Justin Trudeau stomped it out, like a campfire at the end of the night.
He gave himself unprecedented powers, meant to protect Canadians at times of war.
He did things that should never be done to peaceful Canadian citizens.
He weaponized the financial system, shutting down fundraisers and freezing people's bank accounts without due process.
Storm troopers took to the streets, shooting journalists with tear gas and trampling people with horses.
Pride in our country evaporated. We were reminded the tyrants are still in control.
Even though the Freedom Convoy was violently crushed, it was still a brilliant success.
Public opinion had turned. Provincial governments started to quietly drop mandates and restrictions.
We must not forget about what the tyrannical Liberals did to us. What the NDP and Bloc Québécois enabled. What the Conservatives failed to oppose.
We must recapture the fervor and passion of the Freedom Convoy and start fighting now to make change in the next election.
We must replicate what the Freedom Convoy accomplished. After filling the streets of Ottawa with the People, we must fill the House of Commons with People's Party MPs.
I'll need your help to do it.
Help me continue the fight started by our brave Canadian truckers with a $5 donation today!
Cheers,
-Max