REPORT ON DAY 2 OF THE TRIAL OF POLITICAL PRISONERS MONIKA & ALFRED SCHAEFER IN MUNICH
COURT DAY 2 July 3rd Tuesday: Caption: Alfred Schaefer Released After One Night in Prison!(a small victory) 
Number of Press, between 3-4 Security 6 (but feel there are people interested in this case as I see security people sitting down with the audience for a while, looking (body language) very alert and interested but not staying very long(perhaps their break time?)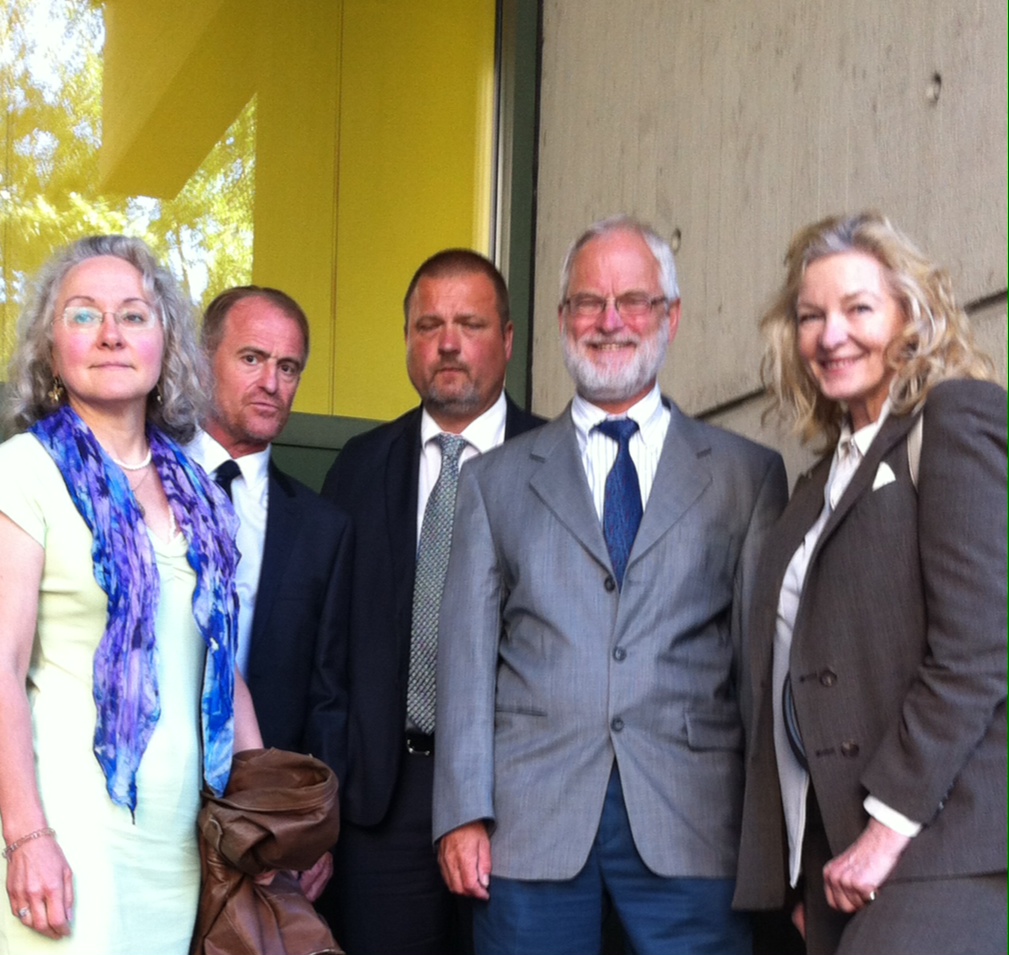 Audience: 12 and stayed 12 (perhaps with one or two change in the people) 
Session starts 12:42 (probably meant to start at 12:30? General Presentation of the day: Very clear, precise and substantial. Unlike yesterday no time was lost for trivial and petty issues like greeting, arrest declaration(of Alfred), and whether water could be available for Alfred and Monika. Hence there was no booing, moans of comments from the audience (unlike yesterday when there were several during the day, culminating with Sylvia Stolz's arrest, post Court.( The problem arose due to the fact that although the session was officially finished, the Judge had not left the room yet when she stated that this Court/ session was "Terror" And everyone had to leave the court so she can be arrested
So, unlike yesterday, the audience seemed content and satisfied with what was happening at Court. Alfred's lawyer is  Frank  Miksch and Monika's lawyer is Wolfram Nahrath.  
Today was Monika's turn. Hence Lawyer Frank Miksch read first. (After he started there was one interruption/comment from the persecutor. Then he continued again 'til the finish. Like yesterday there were many quotes and documents quoted. Newspapers like Allgemein Zeitung, Jewish Chronicle…. Gilad Atzmon and "Holocaust Swindle" Gerald Menuhin…possibly his book (if so was only said in German..) 
T
hen some rather longer section from
 Allgemein Gazette
..Words like, ʻhistorical' ʻobjective' and journalistic reports and names but I could not really catch or recognize them. But basically the lawyer was trying to show the absurdity of this law 130, or specifically 130.03, applicable only on the German soil. So words like ʻabsurd' ʻabsurdity'. Holocaust 
Lugen
 "psychological law" The historical fact that Auschwitz plaque had been changed from 4 million to 1-plus million. So, why would ʻquestioning the number' be illegal. Words like"totalitarian state"were used. And a constant reference to Bundesrepublik Deutschland something about extreme Right, laws for 100 years.
 Holocaust was mentioned  every now and then a quote from Richard Wagner on the "predation" (of the Jews)? Also questioning the German law with the expression Article this, Article that…etc. At 1:50 a 10 minutes break until 2PM.
2PM onwards… Another word used was ʻoffenkundig' not allowed to question what is so obvious. Another reference often used was this PARAGRAPH 6 of the German law. This would be repeated until the end. Then there are names like Horst Mahler, Zundel, "Bomber Harris Do It Again" in both German and English with obviously more explanation. Staftlaw The the universality of the Law….including the Law of and for Holocaust(Holocaustianity-my comment not his) discussed other genocides/holocausts like Armenia that are to open debate and questioning unlike the version for Judea. But that is not possible in Bundesrepublik Deutschland. So other words mentioned, Ein Volk, and Verboten(forbidden), They were talking about precedent cases too. Horst Mahler, the law=Article 5, often mentioned. And of course Paragraph 6.=exclusive to Germans and to the period of the Third Reich ONLY.
 Literature was mentioned. Along with "confrontational" "provocative videos Mein Kampfs (our fights) Meine Freiheit (our freedom) "Totalitarian …" "false interpretation of history". "Billigen und Miss(German S here)billigen"-(Probably the definition for these words meaning appropriate or inappropriate. Again Paragraph 6 and 130. Also mentioned the fact that a Chinese dissident won a Nobel Prize while in jail. What would be a historical interpretation of the Holocaust? Mentioned in detail was the case of Bishop Richard Williamson, about what happened to him, including being interviewed by a Swedish TV on  German soil and its consequences.
At 2:50, the lawyer  handed the 22 pgs or so paper to the Judge. In between the Court Clerk came to tell the Judge that the bail has been deposited (5000 Euros) and Alfred's passports(Canadian and German) surrendered to the Court so that Alfred can be released from custody. The Judge signed a document. This occurred around 2:30. Therefore at the next break took place from 2:50 to 3:00 p.m. Alfred is greeted by friends and his wife outside the trial area.
3:00 p.m.: Lawyer talks now. Some articles of 2005, words like Auschwitz, ʻLugen'(lie) and Dr.Stefan Godsta. Article 5 was mentioned again. There was more quotations and documentation.
The lawyer concluded at 15:25. He lawyer  handed the paper over to the Judge. Somewhere in the day 2 ex-constitutional Judges, Hoffman-Reim and Hassimer were quoted who had stated that the Holocaust Law should be repealed. Then, the Prosecutor gave a kind of critique. She is critical of provoking "emotionality"(provoking on purpose that?) First Lawyer Frank  Miksch responds (rather briefly) followed by Lawyer Wolfram (much longer and observers said he responded quite eloquently to the critique) stating that it is just Alfred's personal style and emotions are natural and appropriate to what one is reading. The Judge then thanks the 2 lawyers and says few words. There is a very short pause. Then, the Judge continues, basically on how the proceedings will be the following day. And other technicalities like the agreement on showing Alfred's video.  As well on the following day,  the Court will listen to Monika and Alfred life, starting off with their childhood.
The trial finished around 4:30PM and will proceed at 10 tomorrow morning.