Click here to read in browser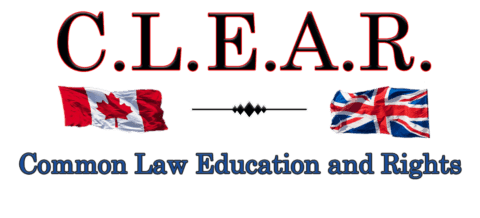 Rally's and Events
Please Forward
"It Ain't Over
At this time, it cannot be forgotten that the COVID-19 Communist takeover scam continues. Criminals in our gov'ts appear to have given us a break – all the while admitting that they will be back in the fall.
This break has not prohibited these Gov'ts from continuing to falsify charges against and prosecute innocent people who simply refuse to comply. These criminals continue to promote masks/vaccinations at various locations such as hospitals as well. Our goal for the absolute return of our rights and freedoms, will and must continue. Do not be led to believe that it is all over. It is not – far from it.
We urge everyone to obtain a copy of the book, "The Politics of Obedience" by Etienne de la Boetie, written over 400 years ago to obtain an excellent understanding of the power we have by simply exercising our Constitutional right/power to peaceful civil disobedience.
This Constitutional right/power originates from the breach of the Coronation Oath contract with the Monarch.
Remember…
The majority of the world's population remains unvaccinated!
Bonnie Henry's stats are lies!
—————————————
As noted below for our Rallies updates, there is a Canadian "Ocean2Ocean" rally this coming June 4, 2022.
Speakers will be announced.
CLEAR will be partnering with Ocean2Ocean, featuring our CLEAR MEGA Rally on this date, including our MEGA March in downtown Kelowna.
Please join us on June 4, 2022 for our national opposition to the entire COVID-19 restrictions and lockdowns, Federal and Provincial.
See below for details and speakers!
—————————————
"Trucker Freedom
Convoy and the
Collapse of
Liberalism in
Canada"
This is one of the best overviews I have seen in relation to the trucker convoy. Discussing over 24 issues and exposing the documented lies from our Governments, all supported with excellent research and documentation, this work is a must read for everyone who simply could not keep up with the daily Government lies to us in relation to the trucker rally.
Ray McGinnis – Author
Unanswered Questions: What the September Eleventh Families Asked and the 9/11 Commission Ignored.
—————————————
Kelowna UNITYhas excellent information and statistics opposing the Gov't narrative on COVID-19, including excellent science on the RAPID tests and associated dangers, and a 38 page Pfizer report on Adverse Events data.
A wonderful brochure is also available on their website providing information and links to other groups and sources of information.
chrome-extension://efaidnbmnnnibpcajpcglclefindmkaj/https://unitymovement.ca/wp-content/uploads/2022/05/UNITY-Wellness-Resources.pdf
See also:
—————————————
Odessa, at librti.com, provides an informative interview here with Ken Drysdale, author of "Investigation into Criminal Allegations Concerning COVID 19 Pandemic Response". There is an incredible amount of statistics and information confirming the criminal activity of gov't officials, and supported by their own statistics!
See Odessa's interview with Ken Drysdale, one of the authors of this incredible book of statistics in Canada.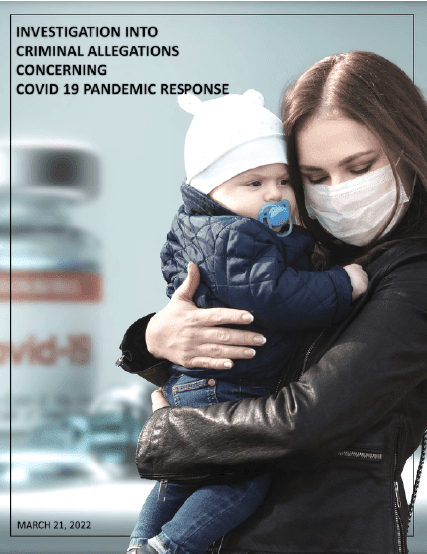 —————————————
Jagmeet Singh, de facto Liberal supporter and Communist, publicly announced on May 20 that he believes that most Canadians support mandatory vaccine passports – and for those who refuse – "…there would be consequences for those who are not able to or not willing to do that and we can look at what those consequences are."
I think we should look at what the consequences are for breaking your Oath of Allegiance to HMTQ and promoting Communism, and criminal assaults upon people, instead of our Christian common law.
—————————————
On a personal level:
Due to the paranoid COVID-19 situation, a B.C. dad was legitimately upset when only one (1) child appeared to his son's birthday party!
A Vernon B.C. man in hospital, noticed Bonnie the Commie in a video plea that made him feel as if he was back in Communist Chile under Augusto Pinochet, due to prohibition on visitors, leaving him in isolation from his own family.
His comparison of this situation to torture is, sadly, an accurate portrayal of the results of The Commie's Orders.
—————————————
Here are some excellent studies and reports in this article, including an interview with Mark Steyn, discussing the statistics confirming the dangers associated with the COVID-19 experimental injection vaccines.
—————————————
The WHO's chief now claims that Omicron can re-infect over and over again.
What is held back from people is that though variants can transmit easier, they are always less severe.
Now the push of course, is being set for the demand this fall for future COVID-19 experimental injections and boosters.
—————————————
A Joint Statement, representing 17,000
Physicians and Medical Scientists to End
the National Emergency, Restore Scientific
Integrity, and Address Crimes Against
Humanity
—————————————
"'Emergencies' have always been the pretext on which the safeguards of individual liberty have been eroded—and once they are suspended it is not difficult for anyone who has assumed such emergency powers to see to it that the emergency will persist."
F. A. Hayek
—————————————
Not that I am a supporter of the Catholic Church in any way – however, a recent announcement by an Archbishop has excellent overlap with our common law principles and Coronation Oath of the Monarch, that we cannot let others tell our Governments and Monarch what to do, as we surrender our sovereignty to these bodies that we have no control over. It is a criminal offence to do so and we should immediately withdraw from the UN and WHO.
————-
DECLARATION
REGARDINGTHEYIELDING OFSOVEREIGNTYTOTHE
WHO FOR THEMANAGEMENTOFHEALTHEMERGENCIES
"In the coming days, the Nations that adhere to the World Health Organization will vote on resolutions regarding the WHO's management of pandemics. These resolutions will transfer sovereignty regarding the health of citizens to a supranational body that is largely financed by the pharmaceutical industry and the Bill & Melinda Gates Foundation. If these resolutions are approved by a majority, the WHO will have exclusive international authority in the case of a pandemic to impose all the rules, including quarantines, lockdowns, obligatory vaccinations and vaccine passports. It should also be borne in mind that this organization enjoys immunity, and thus its members cannot be either tried or convicted if they commit crimes. Unelected technocrats will paradoxically have more power than that which citizens confer on their representatives by means of their democratic vote.
Given that the yielding of sovereignty is considered the crime of high treason by the laws of every nation, and that Parliaments may not legislate against the interests of the Nation, much less violate the natural liberties and fundamental rights of the citizens whom they represent, I believe that it will not escape anyone's notice that this attempt by the WHO to appropriate a power that properly belongs to individual Nations is intended to impede any sort of opposition to the Agenda 2030, which in the field of healthcare also aims to accomplish the drastic reduction of medical and hospital services, the privatization of the health industry, and disease prevention by means of vaccines."
—————————————
—————————————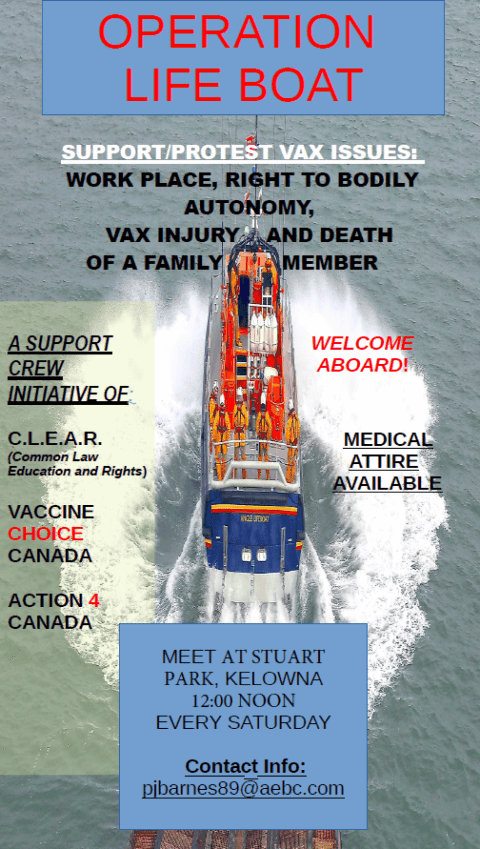 —————————————
—————————————
Freedom Rallies
"It ain't over till it's
over"
Back to Normal
May 28, 2022
Next CLEAR Freedom
Rally
+20° – Sunny (subject to change without notice!!! lol)
12:00 noon
+ The CLEAR Information Table
Stuart Park
MC: The Okanagan's very own:
Jacquelyn – Rose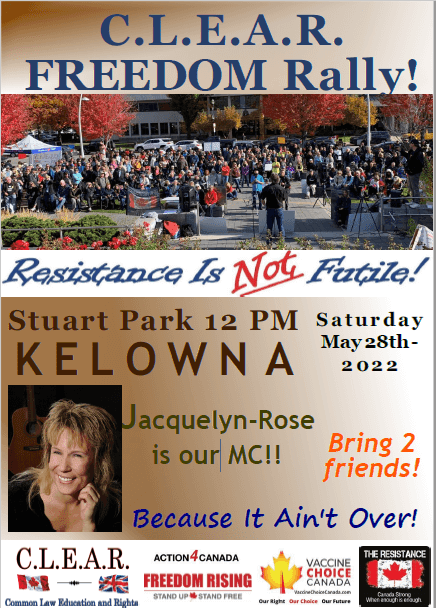 —————
May 28, 2022 12:00 noon
Vernon Freedom Rally
12:00 Noon Polson Park
Join Darren for the Largest rally in the North Okanagan, and growing weekly!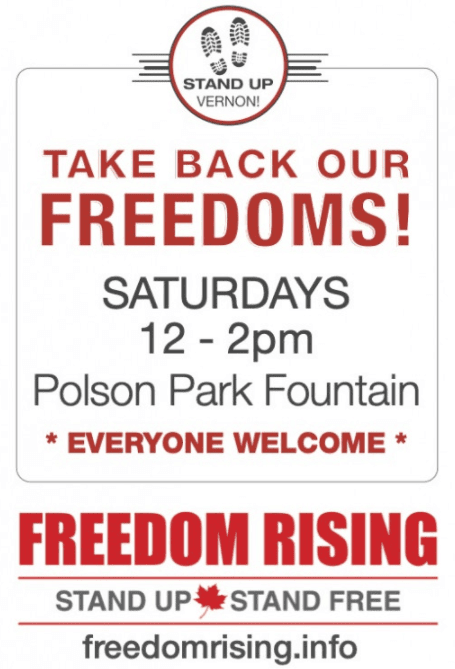 North Okanagan Shuswap Freedom Radio
http://s1.voscast.com:11464/stream
—————
May 28, 2022 11:30 a.m.
OK Falls Freedom Rally
11:30 a.m. Across from Esso Station
Join the OK Falls freedom activists who are now just beginning their local Freedom Rallies!
—————
May 28, 2022 12:00 noon
Oliver Freedom Rally
12:00 p.m. Town Hall
Join the Oliver freedom activists who are now just beginning their local Freedom Rallies!
—————
May 28, 2022 11:00 a.m.
Osoyoos Freedom Gathering
11:00 a.m. – 12:30 p.m. Town Hall
—————
May 29, 2022 1:00 p.m.
Penticton Freedom Rally
1:00 p.m. Warren & Main St. in N.E. lot
Join Mary Lou for the largest rally in the South Okanagan, and growing weekly!
For those who believe and demand that our gov't hire back the incredible nurses that they terminated for refusing to be vaxxed, we urge you to go to this site and support these nurses get their jobs back!
Work Of Art Pottery Studio
1544 Harvey Avenue
##500
Kelowna, BC V1Y 6G2
Fri, 3 Jun 2022, 6:00 PM PDT
Hirebackourheroes.ca
—————
Speakers:
Anita Krishna Former 20 year Control Room News Cast Director – Global News
Dr. Robert Johnson Salmon Arm Dentist
Ted Kuntz Vaccine Choice Canada Co-founder and leading source for accurate information in relation to vaccines, including for COVID-19
Bettina Engler Ocean 2 Ocean
Reiner Fuellmich Grand Jury Update
David Lindsay CLEAR – Common Law Education & Rights
All followed by the Kelowna Downtown MEGA MARCH!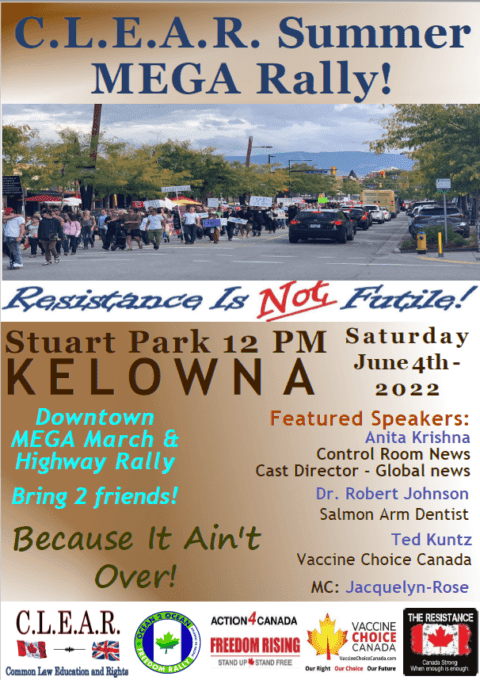 —————————————