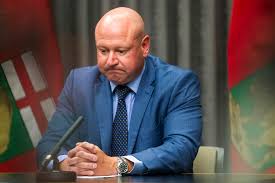 The Canadian Red Ensign
Thursday, November 26, 2020
Roussin's Victims
The province of Manitoba in the Dominion of Canada, one of Her Majesty Queen Elizabeth II's Commonwealth Realms, is my home. We have seen two types of protests directed against the provincial government in recent months, both objecting to the province's response to the spread of the Wuhan bat flu. One type of protest, such as that which took place in Steinbach on the 14th of November, expresses opposition to the public health orders as trampling all over our basic freedoms of association, assembly and religion and our prescriptive and constitutional civil rights. The other type of protest expressed the views of the socialist opposition party, its leader Wab Kinew and his health critic, and their far left echo chamber in the media which features such automatons as the CBC's Bartley Kives and the Winnipeg Free Press's Dan Lett and Ryan Thorpe. Those involved in this type of protest take the position that the government's public health orders have been too few, too light, and too slowly enacted, and that the government by not imposing a harsh lockdown the moment the case numbers started to rise in the fall, is responsible for all the deaths we have seen since September.
My sympathies are entirely with the first group of protesters, as anyone who has read a word I have previously written on the subject already knows. I should say that my sympathies are with the protesters' basic position. I don't much care for the rhetoric of civil disobedience, rebellion, and populism in which that position is often expressed at those protests.
While the second group of protesters are certainly entitled to their opinion and the free expression of the same, a freedom that I note many if not most of them would prefer to deny to me and others who take my side of the issue, their position is easily debunked from an ethical point of view.
When a virus is spreading, government is not required to do everything in its power to slow or stop the spread. Indeed, it has a moral obligation NOT to do everything in its power to slow or stop the spread of the virus. This is because the government has the power to do tremendous evil as well as good.
Let us agree that saving lives that are at risk from the virus is in itself a good and worthy goal. Stopping and slowing the spread of the virus may be a means to that end, but whether it is a good means to a good end or a bad means to a good end is debatable. Slowing the spread of the virus increases the total length of the pandemic, stretching out the time we have to deal with this plague over a much longer period than would otherwise be the case. That can hardly be regarded as desirable in itself. Quite the contrary in fact. Whether this is an acceptable evil, worth tolerating in order to achieve the end of lives saved, depends upon a couple of considerations.
First it depends upon the effectiveness of the method of slowing the spread of the virus in saving lives. If the method is not effective, then the evil of artificially lengthening the period of the pandemic is much less tolerable.
Second it depends upon the means whereby the stopping or slowing of the virus, considered as an end itself, is to be accomplished. If those means are themselves bad, this compounds the evil of stretching out the pandemic.
Neither of these considerations provides much in the way of support for concluding that a longer pandemic is an evil made tolerable by a good end, such as saving lives.
With regards to the first consideration, it is by no means clear that any lives have been saved in this way at all. Indeed, at the beginning of the first lockdown, back when everyone was repeating the phrase "flatten the curve" ad naseum, the experts advising this strategy told us that it would not decrease the total lives lost but merely spread them out so that the hospitals would not be overwhelmed at once. This, in my opinion at least, was not nearly as desirable an end as saving lives and not one sufficient to make the lockdown measures acceptable.
This brings us to our second criteria. The means by which our government health officials have tried to slow or stop the spread of the virus are neither morally neutral nor positively good. On the contrary, they are positively evil. They inflict all sorts of unnecessary misery upon people. Advocates of the lockdown method sometimes maintain that the damage inflicted is merely economic and therefore "worth it" to save lives. This would be a dubious conclusion even if the premise were valid. The premise is not valid, however, and it is highly unlikely that those who state it seriously believe what they are saying.
Telling people to stay home and avoid all contact with other people does not just hurt people financially, although it certainly does that if their business is forced to close or their job is deemed by some bureaucrat to be "non-essential". It forces people to act against their nature as social beings, deprives them of social contact which is essential to their psychological and spiritual wellbeing, which are in turn essential to their physical wellbeing. Mens sana in corpore sano. The longer people are deprived of social contact, the more loneliness and a sense of isolation will erode away at their mental health. Phone, e-mail, and even video chat, are not adequate substitutes for in-person social contact.
All of this was true of the first lockdown in the spring but it is that much more true with regards to the second lockdowns that are now being imposed. The first lockdown was bad enough, but the second lockdown, imposed for at least a month, coming right before Christmas in the same year as the first, will be certain to pile a sense of hopelessness and despair on top of the inevitable loneliness and isolation. The government has kept liquor stores and marijuana vendors open, even though the combination of alcohol and pot with hopelessness, loneliness, and despair is a recipe for self-destructive behaviour, while ordering all the churches, which offer, among other things, hope, to close. This is evil of truly monstrous proportions. It can only lead to death – whether by suicide, addictive self-destruction, or just plain heart brokenness.
The protesters who accuse Brian Pallister and the government he leads of murder for having re-opened our economy from the first lockdown and not having imposed a second one right away when the cases began to rise are wrong-headed about the matter as they, generally being leftists, are wrong-headed about everything. The government does not become morally culpable for deaths because it refrains from taking actions which are extremely morally wrong in themselves in order to achieve the goal of saving lives. Not imposing a draconian lockdown does not translate into the murder of those for whom the respiratory disease caused by the coronavirus becomes one health complication too many.
Where Pallister does bear moral culpability for deaths is with regards to all the people who will kill themselves, or perhaps snap and kill others, drink themselves to death or accomplish the same with drugs, or simply give up on life in hopeless gloom and despair because he has allowed Brent Roussin, once again, to impose these totalitarian public health orders.
Roussin has been going on television as of late, showing pictures of people who have died, and lecturing Manitobans on how these are not just numbers but people. This is a kind of sleight-of-hand, by which he hopes to distract the public from all the harm he is actively causing, and he knows full well that lockdowns are themselves destructive and lethal for he admitted as much a couple of months ago thus compounding his guilt now, by manipulating their emotions.
Does Roussin realize that this street runs both ways?
What about the young man, Roussin, who would otherwise have had decades of life ahead of him, much more than those whose deaths you have been exploiting to justify your bad decisions, but who killed himself because you cancelled his job as "non-essential", took away his social life, and left him with the prospect of long-term isolation? Do you not realize that he is a person as well?
In the end, those who die from the lockdown may very well turn out to outnumber by far those who succumb to the bat flu.   In which case all that Roussin will have accomplished will have been to exchange a smaller number of deaths for which he would not have been morally responsible for a larger number of deaths that leave his hands permanently stained with blood. Posted by Gerry T. Neal at 1:30 AM
Labels: addiction, Bartley Kives, Brent Roussin, Brian Pallister, CBC, COVID-19, Dan Lett, despair, hope, lockdowns, Manitoba, Ryan Thorpe, suicide, Wab Kinew, Winnipeg Free Press
2 comments:
Bruce CharltonNovember 26, 2020 at 4:41 AM"In the end, those who die from the lockdown may very well turn out to outnumber by far those who succumb to the bat flu. "

From what I can tell from the numbers William Briggs provides, this point has already, several months since, been surpassed in the UK; and the toll continues to mount.

Plus the severity of intense and chronic human misery – perhaps especially nasty among children, teens and young adults – is clearly appalling but the extent is only known to the immediate circle of neighbours and family.

…As would be expected from an illness with such a modest mortality rate – even accepting all the inflated and false counting – such as including all influenza deaths, and many other dishonest methods to numerous to list the inflated-rate seems to be considerably less than 1 in a 1000 and very concentrated among the old and already ill who would have a short life expectancy anyway.

(The non-Christian's terror of his own death, and the desire to delay it a short while at any price, has a lot to do with this.)

Here in the UK many of the most basic aspects of medical care, such as actually meeting a doctor, diagnosing and treating lethal cancers etc, have been almost abandoned.

However, nonetheless, there is a widespread passive acceptance and even embrace of the response – and there is no doubt that poeple-as-a-whole deserve what they are getting – since they keep asking for more of the same; and most of those who don't like it have ne better justification for their objection than hedonism – which does not sustain courage, and offers no motivating alternative.

This has been long coming, long building (pervasive and worsening sub-fertility among the most intelligent, wealthy and high status people being an index) – but we are now seeing an accelerating process of civilizational suicide – caused, obviously, by the denial of God (denial of any God – not only the true God).

Even without our extraordinarily evil and psychopathic global leadership our civilization would be doomed (as I wrote in Thought Prison, 2011) – just more slowly than is happening now

Men cannot live without God/s – even at the basic biological level; since all human societies evolved with religions, and depend upon religion for much that is basic to survival. ReplyReplies

Gerry T. NealNovember 27, 2020 at 6:37 AMBruce, that we have long ago passed the point where the numbers dead from the lockdowns exceeds those dead from the virus is my understanding as well. I worded it more cautiously here because I was focusing on the local situation in Manitoba where the statistics about deaths from causes such as suicide for this year are suspiciously difficult to obtain.

We have the same situation with regards to basic medical care here. My father has had to come into Winnipeg annually to see specialists for several years now, but both visits were cancelled this year. One of the specialists was able to do a kind of online videochat examination through the small rural hospital closest to him, but the other just postponed the visit since it has to do with an eye condition that requires an in-person examination. Someone I know who had been waiting for important surgery for years which had finally been scheduled had it postponed due to the virus. I could mention several other specific examples of this sort.