PENTICTON RALLY – EVERY SUNDAY
Thank you, Vlado for the pictures from the last rally
https://photos.app.goo.gl/DsQvvBqTHoF4LQM87
This Sunday, October 30th – from 1 to 3 p.m. Corner of Main and Warren, Penticton.
Drs. Hoffe and Malthouse with the Justice for the Vaccinated bus tour will be joining us for a meet and greet and (fingers crossed) will be ushered in by The Resistance convoy.
– Wow! Action-packed day! Details are below for the J4V event that evening.>>>>
Important updates, open mic, bumper stickers, buttons, Druthers, Pandemic Papers, Common Ground, lots of other information and free hugs. Miss a week and you miss a lot. Fighting for freedom is more fun with friends. Bring a few. November – lots of great speakers have been planned. Stay tuned! ——————————- o0o————————————- Quick list of other events this weekend and next week (as we currently know them). 1. Penticton Rallies and Events – below and at https://penticton4freedom.com/events/

2. Other Okanagan Rallies and Events – below and at https://penticton4freedom.com/events/

3. Canada-Wide Initiatives – See below for links and instructions

4. Protest at Richard Cannings' office every Tuesday, noon to 1. 301 Main Street, Penticton. Bring signs.

5. Hand out invitations for J4V at Farmers Market this Saturday. Meet at Maison Mulnati, 221 Main Street at 10 a.m. 6. Justice for the Vaccinated/Glorious & Free event – Lakeside Conference Centre – Sunday, October 30 at 7 p.m. Details below. 7. Tip Toe to Tyranny documentary Premiere – Saturday, October 29. Details below. Penticton4Freedom is a sponsor! ——————————- o0o————————————-
Justice for the Vaccinated Event – Dr. Stephen Malthouse and Dr. Charles Hoffe speak out. Free event- Let's pack the place! Encourage others to share their stories. The bus parked at the event and earlier at our rally. Plan to be THERE!!! October 30th 7 pm Penticton Lakeside Resort, 21 Lakeshore Drive W, Penticton.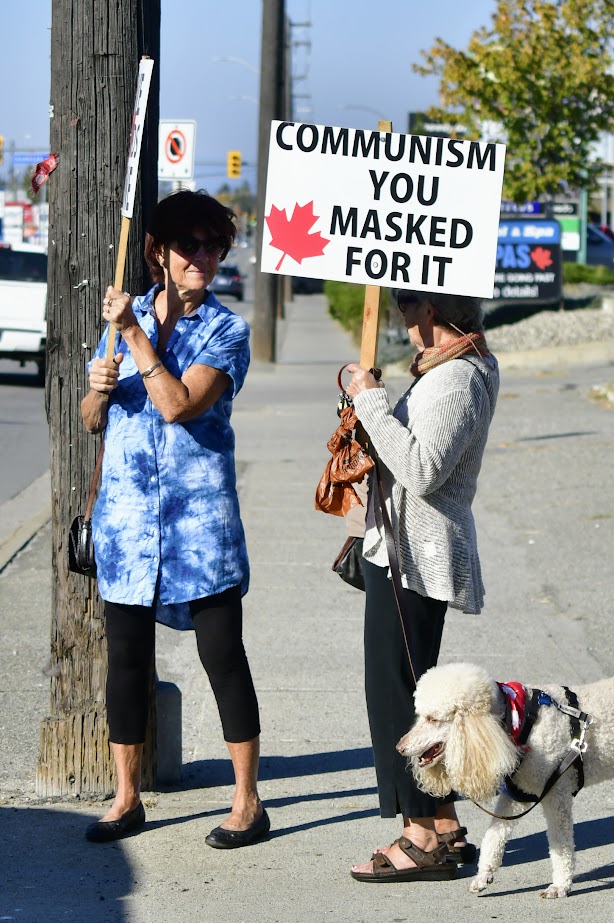 TO HAND OUT INVITATIONS FOR THE J4V EVENT AT THIS SATURDAY'S FARMERS MARKET, MEET FOR REFRESHMENTS AT MAISON MULNATI AT 10 A.M. 221 MAIN STREET. ——————————- o0o————————————- Vaccine Choice Canada is 40 years old! Thank you, VCC for all you've done and are doing to help us understand the risks and make informed decisions.
——————————- o0o————————————-
Going on elsewhere in the beautiful Okanagan…
Saturday Rallies https://penticton4freedom.com/events/
Osoyoos 10:30 am
Oliver 12 noon
Kelowna 12 noon – Stuart Park
Saturday, October 29 "TIP TOE TO TYRANNY" DOCUMENTARY PREMIERE The premiere screening of this powerful documentary by Canadian filmmaker Chris Harrigan is this coming Saturday, October 29th. The screening will be followed by a Q & A with profiled experts including Dr. James Lyons-Weiler, Dr. Dena Churchill, Dr. Bob Sears, and inspirational parent Diane Doucet. Watch the new trailer HERE Thanks to your donations, Penticton4Freedom will be listed in the movie credits as a sponsor. Woohoo! Register For the Premiere $20 for the viewing of the Premiere with live Q&A. You can have a bunch of friends over to watch it with you at no extra charge. Bring on the popcorn and have your own discussion following the feature film. A Librti.com account will be required, but you can set up a free account to join. This will give you access to the other features on Librti.com as well. There are just two seats left for viewing in Penticton for those who helped with the sponsorship of the film at our October 2 and October 23 rallies. To reserve one of these spots, please call Mary Lou at 780-908-0309. You will be contacted with the exact time and location. Details of the subsequent availability of the film will be announced on librti.com and in our newsletter as soon as more information is available.
——————————- o0o————————————-
Don't forget to continue to follow the steps to REIGNITE OUR FREEDOM
Reignite Freedom – Step #8
­The 8th step of the GLOBAL WALKOUT is to watch the new documentary called 'The real Anthony Fauci'.
Take it a step further and try to convince a fence-sitting friend to watch it with you. Do whatever it takes…maybe their favourite wine, dinner or dessert??
The most relentless and merciless compilation of just how dishonest, self-contradictory, incompetent, and downright wicked our public officials have been since early 2020. You're going to want to host viewing parties. You're going to want to spread it all around. You can view this documentary for free, for 10 days only.
It's free to watch for the next TEN DAYS – click here
You might not know this, but Robert Kennedy Junior inspired the idea of the Global Walkout. He was featured in our launch video and his organisation, Children's Health Defence, supported us a lot and published the global walkout steps. (Global Walkout Founder)
——————————- o0o————————————-

The Democracy Fund wants to know the real reason why the federal government invoked the Emergencies Act. Read HERE And you can still add your views to the many letters sent to the Hearings by individuals like us.
——————————- o0o————————————-
An action we all can take to send a message to our elected representatives that it's time to exit the WHO. Powerful action made easy HERE
——————————- o0o————————————-
Have DRUTHERS DELIVERED To YOUR NEIGHBOURHOOD
It's never been easier to make a big difference in your neighbourhood with Druthers. Now you can have copies of Druthers newspapers delivered right to mailboxes in your neighbourhood and wake up your community more quickly. We make all the arrangements with the printer and with Canada Post, so all you need to do is place your order here, decide how many addresses you would like delivered to and which postal code area you would like them delivered around, and that's it… we'll take care of the rest.
——————————- o0o————————————-
FREEDOM RISING Newsletter #19
Please read, then share their newsletter with your family and friends HERE
——————————- o0o————————————-
Remember that Freedom Hugs are available at ALL our Penticton4Freedom events!
Let's make this week AMAZING!!
~ Mary Lou Gutscher
780-908-0309