Political Prisoner Horst Mahler May Be Near Death in German Prison
Germany politic0-philosopher and imprisoned dissident Horst Mahler (born 1936) is in a very bad way in a prison hospital.   
Behind bars for years and for the next 10 years despite his crippling condition after a leg amputation in consequence of the life-endangering prison diet for a diabetic, the octogenarian and former attorney has committed no crime for his jailed condition save expressing peaceful philosophical opinions.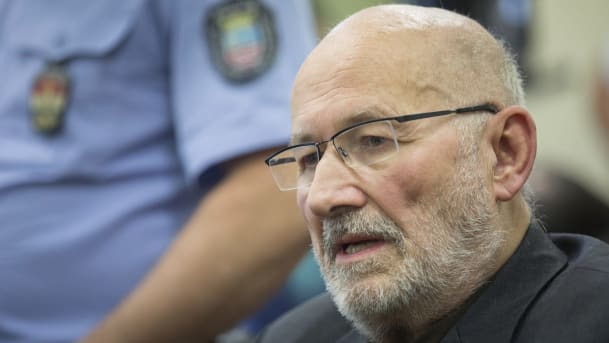 Attorney Mahler's wife writes (for general public interest release) the news her husband wishes conveyed via Robert Steinert.   (Mr. Steinert is the co-producer of the film based on the groundbreaking book "Other Losses" … the untold loss of a million POW and German civilians driven, on the sociopathic orders of the postwar barbaric Eisenhower, who intentionally starving them to death in tightly packed fields of the Rhine Meadows exposed to harsh elements).
<<Dear Herr Steinert, I am sending you this message at the request of my husband… Yesterday I visited my husband in the detention department of the municipal hospital in Brandenburg. He has been there since Wednesday – after a breakdown in the cell !
 Horst suffers from necrosis of his remaining right foot (its big toe).
In addition pneumonia has set in – quite heavily now. 
His CRP value of his blood is 300 – this is very high. A normal value is about 10.
For two days he has been on antibiotics – now we have to wait and see whether the inflammation levels drop.
Mentally Horst is clear, as always, but very weak. He fears that he will not get through this time….
Yours sincerely, Elzbieta Mahler>>
In the circumstances, well-wishers may like to take this opportunity to send their respects to Horst Mahler who is regarded by many (to quote Robert Steinert):
<<

 as without doubt one of the greatest thinkers Germany has ever produced. Nevertheless, I hope that he will survive this crisis, because we all need him urgently!>>
Horst's prison address is:
Justizvollzugsanstalt Brandenburg A.D. Havel,
Inhaftierter: Horst Mahler 
Michèle Lady Renouf