Canadian Association for Free Expression
Box 332,
Rexdale, Ontario, M9W 5L3
Ph: 905-289-674-4455; FAX: 289-674-4820;
Website http://cafe.nfshost.com
Paul Fromm, B.Ed, M.A. Director
For Immediate Release
CAFE Calls on Elections Canada to Investigate Bullying & Intimidation Tactics of Canadian Anti-Hate Network Aimed at Registration of a New Populist Party
REXDALE, July 15, 2019. Today the Canadian Association for Free Expression is filing a formal complaint with Elections Canada demanding an investigation into bullying and intimidation of voters by a group of anti-racist extremists calling themselves the Canadian Anti-Hate Network. In July 10 Twitter postings, this group has threatened to publicize the names and addresses of persons who sign up as member of the newly formed populist Canadian Nationalist Party, in order to qualify the party for official recognition as a party in the upcoming October federal election.
In their July 10 statement this group of anti-democratic fanatics stated:  "The Canadian Anti-Hate Network will publish the names of 250 members of the neo-Nazi Canadian Nationalist Party if they are successful in becoming a registered political party. We plan to publish these names and their cities of residence as soon as they become public, and will encourage local media to run stories naming neo-Nazi supporters in their communities. … This kind of naming and shaming is part of our mandate of exposing hate groups to make sure communities are well-informed, and to ensure that there are significant, nonviolent social consequences for supporting hate groups."
"This ugly bullying threat is libellous," says CAFE Director Paul Fromm. "The Canadian Nationalist Party are traditional Canadians and populists, not National Socialist wannabees. CAHN, who boasts longtime anti-free speech campaigners like Bernie Farber and Richard Warman as board members, seeks  to intimidate citizens from their right to vote as they choose."
CAFE Calls on Elections Canada to Investigate Bullying & Intimidation Tactics of Canadian Anti-Hate Network Aimed at Registration of a New Populist Party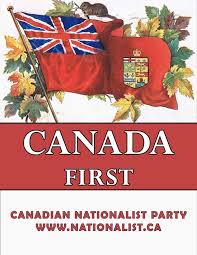 "The list of signators  ti register a political party is public ONLY for the purposes of establishing the bona fides of party supporters," he adds.
In a further tweet, the hitmen of political correctness gleefully anticipate the loss of jobs for people participating in this democratic process. In a July 10 tweet, Canadian Anti-Hate Network Board member Evan Balgord, a former assistant to Toronto's anti-free speech Mayor John Tory, enthused: "Employer concerns are a natural consequence of supporting a neo-Nazi party. Practically, however, we won't have the time to research 250 individuals. Local media might. I'd note they can avoid that consequence by emailing Elections Canada and withdrawing their support. – Evan"
Then, as a further to interfere with the secret ballot and the right of citizens to freely choose the party they prefer, the CAHN offers a carrot:  "If any of members of the Canadian Nationalist Party want to avoid being named and facing the social consequences of supporting a neo-Nazi party, they can email Elections Canada at info@elections.ca to withdraw their support."
The threatening tactics of the CAHN are no different than posting goons armed with clubs outside polling stations reminding voters not to vote the "wrong" way, says Mr. Fromm an activist with 48 years experience battling the forces of censorship and speech constraint in Canada.