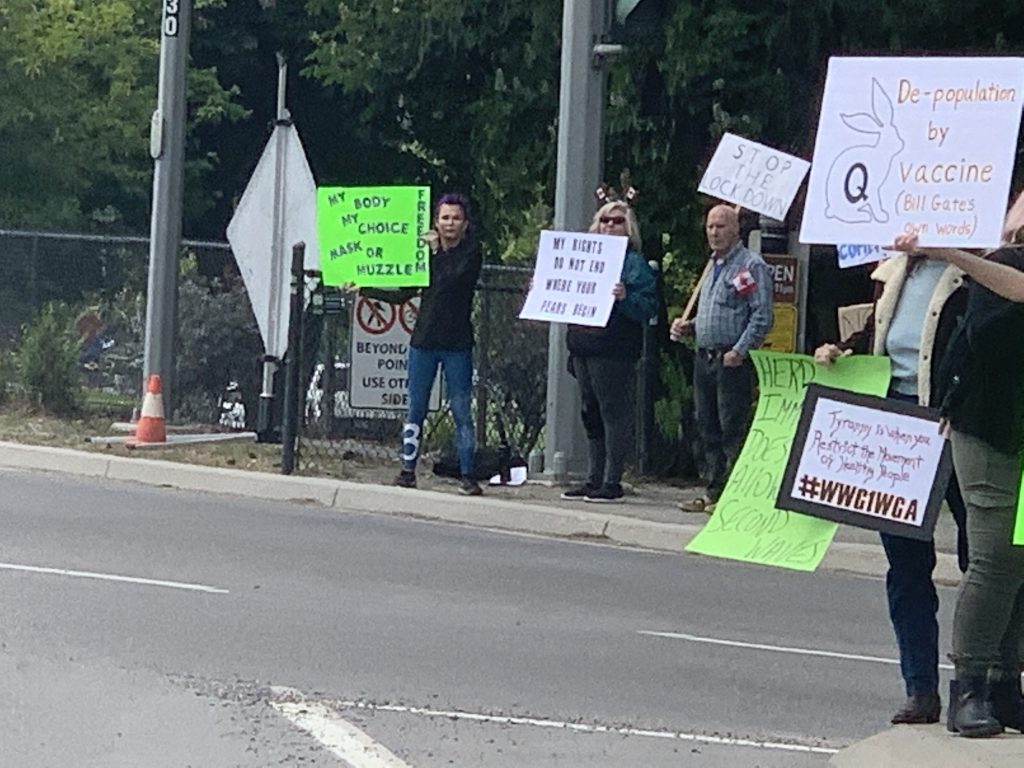 See everyone on Saturday, August 1, 2020  12:00 noon at Stuart Park! END THE LOCKDOWN RALLY IN KELOWNA
Hi everyone. Let me begin by saying what an awesome event we had this past Saturday in Kelowna. With about 35 people in attendance, we had a wonderful walk down Bernard St. which is now closed to vehicles. There was certainly a noticeably less amount of people there, primarily because of more fear mongering from Bonnie Henry two days earlier, where she issued another unreasonable, fear based order restricting activities in bars, pubs and restaurants.

However, whether some people agreed or not, with our huge signs and number of supporters, we definitely got everyone's attention walking down the street. This is something we will do again at some point in August. I think likely the 22nd, to allow time for people to ignore Henry's ridiculous directives. See the attached pix of some of our supporters!

During this rally, I described more negative and inflammatory actions by the B.C. media against us. Castanet reporter (if I dare call her that) Sarita Patel out of Kelowna, did a short interview with a woman named Grace Anderson, a downtown retail worker who claims to be an essential services employee, and found a brochure one of our committed freedom activists left at her business.


Ms. Anderson bemoaned our brochure, claiming that it was false, without of course specifying any errors, and which Ms. Patel reported in her story. No attempt was made to email us or solicit our viewpoint on the matter. Ms. Patel told me that they would hear my side of the story prior to our Saturday rally by a different reporter as she was not working, but her supervisor Colin reneged on that guarantee and refused to interview me on the basis that he disagreed with our position.

This of course without either of them actually reading our brochure or doing any investigative reporting, because Ms. Anderson destroyed our brochure after taking pictures of it. Of course, Ms. Patel made no attempt to read it on Ms. Anderson's phone.

Hearing only one side of a story and reporting it – is pure propaganda, not investigative reporting.

Consequently, I raised the issue to our group on Saturday of taking a ½ day during the week to rally at several downtown local media establishments, including the Courier, Global News, Castanet, CBC and CTV, in opposition to their lack of fair media attention to both sides. This is exactly what Vaccine Choice Canada and others are doing in the Claim filed in Toronto recently.

Response from the group was overwhelming to say the least.

We have set aside Wednesday, August 5, 2020 to meet at Stuart Park. We will then walk to each of these new media outlets for about 30-45 minutes each. We will have several brochures and our Fact Sheet to hand out and hopefully get an interview with at least one of these MSM gov't propaganda outlets. We will also have all our signs available to get their attention.

Let's swarm each of their offices with our presence and demand that they hear our side of the story and to put the really damning questions to Henry, Dix and………dare I say it, Fartworth!!

We need as many people as possible

for these rallies – especially for the media!

If you have been unable to make it out to previous rallies, NOW is the time to come out!!!!

Bring at least two friends!!!

I have started working on a Youtube video to set out all the info that I am aware of hopefully on all aspects of the COVID Scam, from the intentionally false initial models, to the testing procedures, to the statistics that are kept, and the masks issue. This will be something that I hope will clarify for all those 'on the fence' to jump on board and see exactly what the Gov't IS NOT TELLING US.

I am unsure how it will take to prepare as I will be doing a Powerpoint presentation, but I have started and will continue to work as I can to get it done. I expect in about two weeks to be done (estimate only!!!).

————

A new group opposed to masks has set up in Ontario. They have a few Youtube videos up as well.

I will try and reach out to them.

————

I want to bring to your attention a chart from the WHO, circa May 12, 2020.


As you can see, the flu is markedly worse in many symptoms than COVID. So why Bonnie Henry, do you continue to impose unnecessary restrictions on our liberties and our social activities when this was never done for the flu even in its worst years?

In an article in today's Vancouver Sun, Health Minister had this ominous quote attributed to him:

"As we approach our B.C. Day long weekend, let's acknowledge right now that it can't be like any B.C. Day long weekend we've ever had. This is our first B.C. Day celebration in our B.C. new normal."

"Use 'Covid sense' to stop the spread and stay safe"

Van. Sun July 27, 2020 p. A11

Reading between the lines provides a frightening look into the future: there will be many more B.C. Day long weekends under similar circumstances as we see now, ie: this is permanent and will never end.

We cannot permit this to happen. Which leads directly to the real new normal that WE will practice.

The Real New Normal from now on, is:

Live normally and just say NO!

Do not fall into the trap of believing that it is only because of the Gov't's social distancing/masks demands that stores can now begin to slowly open. To the contrary, it is directly because of the Gov't's actions that we have sustained tens of billions of dollars in economic losses, permanent job losses, unknown deaths and needless suffering from cancelled surgeries, and incurred further health care costs resulting from these cancelled tests and surgeries, and actually placed thousands of people's health and lives at risk. Communist PM Trudeau, Premier Horgan, Health Minister Dix, and Public Health Officer Bonnie Henry are the true cause of these problems and short of a public apology and immediate cancellation of the lockdown and social distancing policies, must be voted out of office next election, or fired for Ms. Henry.

See everyone on Saturday, August 1, 2020 12:00 noon at Stuart Park!

———————————————————————-
B.C. Doctors Interview?

We need to get some B.C. doctors/nurses who are willing to speak anonymously, both visually and in audio, as to what is truly happening behind the scenes, from a medical perspective and a political perspective in the medical community. We need to have local doctors/nurses providing accurate facts in relation to this issue.

If you know any doctors or nurses who would be willing to be interviewed anonymously, and with guaranteed power to review the interview prior to release, please contact me as soon as possible, and let's see what we can arrange. U.S. doctors are still medical professionals, but we need local facts to support our cause.

Doing a video of BC medical people would really strengthen our demands on Premier Horgan and allow us to attack them – instead of waiting while they attack us.

If you know anyone "in the system" who can provide us anonymous tips and/or documents, we need all the help we can get. Please let me know.

————————————————————-