What do a wrestler, protester, and a teenager have in common? ENORMOUS COVID-19 fines
We're trying to help as many people as possible fight their COVID violation fines. Every day we receive more and more "Fight the Fines" cases through our online portal at FightTheFines.com. It's almost impossible to keep up, but we haven't stopped trying to take on every single one of those tickets. We're also crowdfunding on that site so we can pay the legal fees associated with fighting each case.
The fines are often much less than the legal fees, but that's the price we have to pay to stand up for our civil liberties. If you would like to chip in to help us recoup those costs, please click here.
I have three crazy stories for you today.
The first brings two of my biggest passions together: fighting government overreach and professional wrestling.
"Hotshot" Danny Duggan is a professional wrestler and wrestling promoter. His business depends on travelling from venue to venue and, more importantly, on fans buying tickets to go to his live events. Needless to say, all that is illegal now in every province and territory in Canada.
So Danny got creative — he filmed his wrestling event in a closed facility in full compliance with the existing laws. But someone decided to report Danny's production through the COVID snitch line, summoning police and bylaw enforcement to issue Danny a $1,300 fine!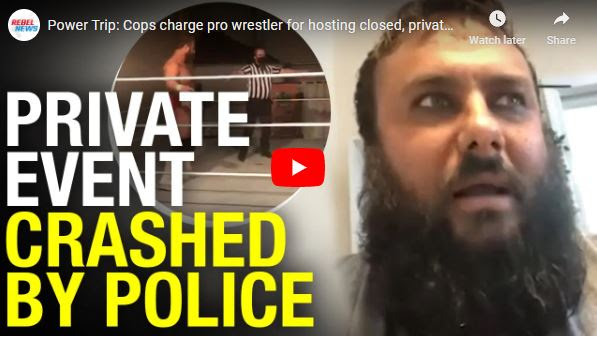 Next, we have Chris Schmidt. Chris and his friends recently attended an anti-lockdown protest in Red Deer, Alberta.
They tried to keep to themselves, but that didn't stop a Segway cop from chasing them down and asking for their information. Chris reluctantly agreed and since he didn't receive a ticket at the event, he didn't think much of the interaction.
But wouldn't you know it, nearly a week later, police showed up at his house to hand him a $1,200 ticket.
You can watch that story right here:
Finally, I want to introduce you to the real-life version of the Footloose town: Winkler, Manitoba. Winkler just might be ground zero of heavy-handed COVID enforcement.
That's where police have been issuing COVID tickets to maskless seniors picking up their prescriptions at the store, fining teenagers for hosting socially distant birthday parties and Christmas carolers singing in a public park.
Winkler is also where the RCMP pulled over Bailey Friesen and his friends for no other reason but to issue each of them a $1,296 COVID fine.
They weren't speeding, drinking, or doing anything else noteworthy — they were simply driving.
It's unbelievable. Click here to watch.
If you get a ticket, make sure you submit your story to FightTheFines.com so we can pair you with one of our excellent civil liberties lawyers.
Despite what our health officials want us to think, pandemics do not override our Charter rights. But to preserve those rights, we have to defend them, especially when they're actively being trampled on.
If you agree and want to help us continue taking on these cases, please click here or visit FightTheFines.com today.
Yours truly,
Sheila Gunn Reid