Anti-vax police officer who compares vaccine mandates to Holocaust resigns
[The latest victim of COVID censorship is a 27-year veteran of he Calgary Police Service, Const. Brian Denison, who publicly criticized imposed vaccines or vaccination mandates. He had been "suspended without pay last month and told he couldn't speak publicly about a city policy that states officers who aren't fully vaccinated must submit to regular testing. Governments have used the constantly hyped fear of COVID to bulldoze away many of the rights supposedly guaranteed by the Charter as they impose Medico-Stalinism on Canada. Const. Denison's comparing to the vaccine apartheid measures adopted by businesses and government to events in National Socialist Germany may be a bit over the top, but, in a free and democratic society, he should have the right to utter an opinion, even if Canada's vociferous Jewish lobby objects. — Paul Fromm]
21, 2021  •  1 day ago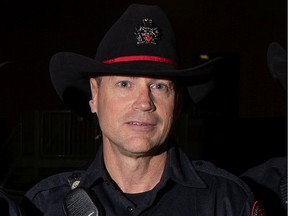 Article content
A city police officer who has compared COVID-19 vaccination rules to Nazi genocide says he's resigned from the Calgary Police Service.
Former constable Brian Denison, who was once a member of the service's hate crimes unit, said he quit the force after being suspended without pay last month and told he couldn't speak publicly about a city policy that states officers who aren't fully vaccinated must submit to regular testing.
"I've been muzzled by the police service," Denison told a downtown anti-vax rally on Saturday.
"I turned in my resignation because I could not abide by what they were doing . . . their orders are wrong, do not listen to them."
CPS on Monday confirmed Denison is no longer employed by the police service.
Denison, who was with CPS for 22 years, called for other officers to follow his example.
"Let me be clear about the CPS — they don't own you . . . the government doesn't own you and can't tell you what you put in your body," he told the cheering crowd.
In a video he recorded while in uniform in late September, he said society's widening exclusions of the unvaccinated was headed down a similar path taken by Nazi Germany in the 1930s.
" Those who are vaccinated, a lot of them, look down on us that are unvaccinated . . . it's very reminiscent of the world war Hitler was persecuting against the Jews, " he said. …
On Saturday, Denison said Canadian governments' COVID-19 vaccination policies show "the correlations are there — what happened in history — and they're happening again."
Last month, a leader of the city's Jewish community said that comparison is grossly inaccurate and offensive, but said he was willing to discuss the issue with Denison.