Her Enemies Failed to Stop Memorial for Barbara Kulazska: Free Speech 1; Censors 0!
On June 15, we lost lawyer Barbara Kulazska to lung cancer at age 64. [An obituary will appear in THE FREE SPEECH MONITOR next month.] Barbara was one of the most important free speech lawyers of her generation. She worked closely with Douglas Christie in Zundel 11, in the Zundelsite case and did fantastic work with Marc Lemire in fighting Richard Warman and getting Sec. 13 of the Canadian Human Rights Act (Internet censorship) declared unconstitutional.
However, the dark forces of thought control and censorship could not leave this formidable woman alone in death. The Canadian Association for Free Expression organized a private memorial on July 12 at the Richview Branch of the Toronto Public Library. Word leaked out on July 10. The enemies of free speech — Warren Kinsella, a major antagonist in the YOUR WARD NEWS mailing rights appeal,  Richard Warman (many of whose libel case victims she had defended), the usual Jewish pro-censorship groups, Bernie Farber , assorted street thugs and even John Tory, Mayor of Toronto, demanded that the memorial be cancelled. The library hung tough and laid on extra security. A senior manager sat in to make sure there was no "hate speech" (What a pathetic nation we've become!) Metro Police sent three masked Antifa street urchins, one allegedly a masked female, packing. The emotional farewell proceeded quietly and respectfully.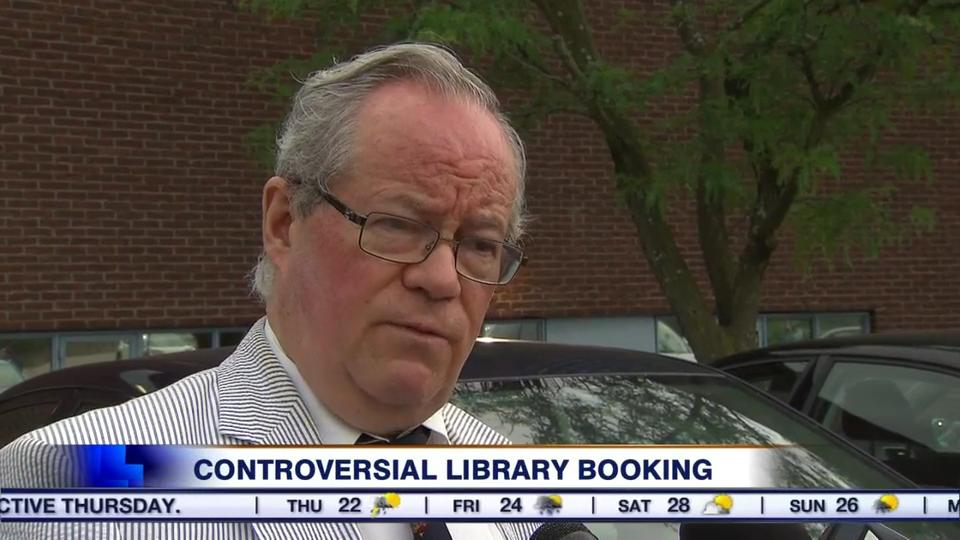 The voices raised to cancel the meeting were marked by their  vehemence and rage. "Warren Kinsella, a Toronto-based political consultant and commentator who is a staunch opponent of Fromm's, disagreed.  'Public services are not supposed to be used to promote discrimination. The library in Etobicoke is doing that.'" (CBC News, July 12, 2017) How is honouring a dead lady "discrimination"? You'd suspect such lack of logic more from the Antifa street losers who'd sucked too long on their crack pipes. "'It is truly shocking that individuals who spread hatred, deny the Holocaust and have ties to neo-Nazi groups are being provided a permit by the Toronto Public Library to host an event inside a public building,' [Councillor James] Pasternak said. "Those tied to hate and bigotry have no place in our libraries." Pasternak, who likely did not hail from County Tipperary, clearly supports political discrimination.
And then, of course, Bernie Farber, for years an executive with the Canadian Jewish Congress and now a CEO with  multiculti Mosaic, who also seeks to have YOUR WARD NEWS shut down added his two shekels worth: " "In my view, Barbara Kulaszka was, like her late predecessor and colleague Doug Christie, a fellow traveller of those neo-Nazis, Holocaust deniers and hatemongers for whom she acted as legal counsel," Bernie Farber added. When the censorship efforts failed,  long time leftist Farber was still given a column in the "right-wing" Toronto Sun (July 16) to moan and groan. He claimed he`d no longer feel safe in a library. "Be prepared folks for this is only the beginning. neo-Nazis, racists, bigots and bullies will now use Toronto Libraries as their official meeting place. Libraries will no longer be that haven of calm, peace and safety I so well remember as a child.`
Beside itself that it hadn`t been able to shut down the memorial, elements of the lamestream media took their revenge. 
The sleazy National Post (July 13, 2017) devoted almost a full page to the memorial. Its headline screamed `Far-right extremists converge at memorial. `The reporter wasn`t there and chose to use the weaponized words to signal that the attendees were  `bad`. As if to illustrate this was a large picture of three goons in black masks. The caption read: `Three masked people stood outside the Richview branch of the Toronto Public Library while a memorial for Toronto lawyer Barbara Kulazska was held. `One might reasonably conclude that these thugs were guards or attendees. In fact, they were Antifa who had shown up to protest and were told by the police to get lost. And, not to be picky, Miss Kulazska was not a `Toronto` lawyer. However, the controlled media never let the facts get in the way of a good smear.
And the supposedly "right wing" Toronto Sun (July 13, 2017) ran a rant by Liz Braun "Don't blame library for hate gathering." The headline was a lie. The memorial was NOT a "hate" gathering. Hate, sadly is a criminal offence in this country. No one at that meeting was charged let alone convicted for anything said that night. The meeting was to celebrate the life of a brave diligent woman. It wasn't about hating anybody. Braun had not attended the memorial but described the attendees as " pathetic anti-Semitic/anti-black/anti-female/homophobic/Islamophobic/etc. garden variety bigots" Nothing at the meeting was said criticizing  Blacks, women,  homosexuals or Moslems. Indeed we were honouring a woman!