Moslem Attorney General Approves "Hate" Charges Against Critic of Moslems
Yasir Naqvi, Ontario's Moslem Attorney General had to approve a Peel Region Police request to lay "hate charges" under Sec. 319 of the Criminal Code against Kevin Johnston, a former mayoralty candidate in Mississauga. Interestingly, Johnston is an outspoken opponent of special treatment for Moslems in the Peel District School Board's schools. He also strongly opposed Motion-103, the anti-Islamophobia motion by Mississauga Moslem MP Iqra Khalid
The Toronto Star (July 25, 2017) reports: "A Mississauga man who has been charged with willful promotion of hatred says he's 'not going anywhere,' and that he intends to run for mayor of the city. The charges come after 'a lengthy investigation into numerous incidents reported to police, involving Kevin Johnston and concerns information published on various social media sites,' Peel police said in a news release Monday.
Johnston, 45, was released on bail after a brief appearance in court Monday. The conditions of his release included an order to have no contact with three people, whose names are under a publication ban. He was also ordered to stay 100 metres away from any mosque or Muslim community centre in Ontario, except for when travelling on the road.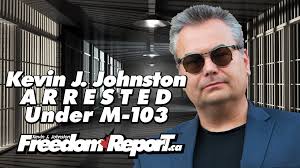 Johnston, wearing a blue polo shirt and jeans, sat calmly in court as the details of the case were read in court.
Outside the courtroom, he was defiant.
'I'm going to run for mayor against Bonnie Crombie next election,' Johnston said. 'She can't stop me through the courts.' …
Johnston has previously ran for mayor, and lost to Mississauga Mayor Crombie in 2014. He is best known for his strong views about the Muslim community, having opposed the construction of a mosque in Meadowvale, offered prize money for videos of students praying on Fridays, and protested against the federal anti-Islamophobia motion, M-103.
Last year, a story published on the Mississauga Gazette site resulted in Crombie filing a hate-crime complaint with Peel police. It was not immediately clear if that complaint prompted Monday's charges. …
At Queen's Park, Attorney General Yasir Naqvi said the government "takes allegations of hate crime very seriously. Ontario prosecutes these cases vigorously, where there is a reasonable prospect of conviction. 'In a multicultural and inclusive province like Ontario, the promotion of hatred stands in direct opposition to our fundamental values of equality and diversity. Hate divides people and communities,' Naqvi said Monday."
"Inclusive", ah, yes, but not of critics of Moslems. "Diversity", yes, but not for people who fear the Islamification of our society. It's never been clearer that "diversity" is a code word for anti-White.
Image result for kevin j. johnston freedom report
CITY-TV's report (July 24) added several more chilling details; "He was released on his own undertaking, under a number of conditions including not being allowed within 100 meters of any mosque of Muslim community centre in Ontario.He has also been ordered not to communicate with Muslim lawyer Zoya Alam, Mississauga Mayor Bonnie Crombie and Liberal MP Iqra Khalid. He was further ordered not to posses firearms and not to reveal any details of his case to anyone outside of his own legal counsel."
Not allowed "to reveal any details of his case to anyone outside his own legal counsel"? Who imposed these Orwellian conditions, an Ontario Court or Kim-Jong-un of North Korea?