Penticton for Freedom Weekly Newsletter
A quick call to action – Doctors Packages
Meet at Penticton Save-On-Foods cafeteria tomorrow, Wednesday at 1 p.m. and/or Friday at 1 p.m.
to familiarize ourselves with the materials, team up and deliver Doctors Packages!!
See you there!!
Other Important Updates In this issue:
– Rallies
– David Lindsay's Court Dates
– National Citizens' Inquiry – LINK to witness the proceedings this week – Thursday to Saturday, March 16 to 18.
– The Campaign to Recall David Eby
– STEP 20 GLOBAL WALKOUT – OPEN A PROTON MAIL ACCOUNT
– Freedom Rising Newsletter – Issue 37 – Action
– Dr. David Martin PhD – "If you think this is anything to do with health and a virus, you are delusional."
– The War on Dr. Charles Hoffe
– Give the Gift of Druthers to Your Neighbours and February edition online
——————————- o0o————————————-
In case you missed the rally last Sunday… Updates on the following initiatives:
1. Recall David Eby – Laureen, Derrick & Wayne, just back from another trip to help out with the Recall David Eby campaign, left us with great tips:
a. Handing out materials at elementary schools can be effective if done at the end of the school day when parents come to pick up their children.
b. Remember, regardless of the final count of votes to recall David Eby, there are many thousands of people who now know about Bill 36, most of whom are shocked and upset and will be watching our politicians (especially David Eby) more closely.
c. There has already been another attempt to recall one of our MLAs, and another recall in the Prince George area is simply waiting for the go-ahead to launch their Recall campaign.
2. Penticton Council Open House – Elsie shared her experience there.
a. 15 minutes cities: She asked the Mayor "What about these 15-minute cities?" to which he responded, "That will never happen here!". So, what about that rumour that Penticton has already received a huge hunk of change to focus on that very project?
b. Penticton Bike Lanes: Three of the councillors are against the bike lane plans but cannot do much about it because they are still required to spend the grant money provided to complete the project. Sounds like a couple of gotchas to me.
3. Doctors' Packages – Shar and Mary Lou shared tips from handing out 11 Doctors' packages to Pharmacists on Friday. A fresh supply of 100 packages will be picked up for us to go out again this week. Woohoo! Eleven were delivered for Pharmacists last Friday in less than two hours!
4. Steve's Cash is King project will continue for at least another week – dropping off posters for merchants to use to encourage the use of cash in their stores. Bring your results to the next rally for a draw prize draw.
Want to join in on one of these initiatives or suggest another more important to you?
Just reply to this email or call 780-908-0309 to offer your help and suggestions.
——————————- o0o————————————-
RALLY – Penticton4Freedom – every Sunday at 1.
Sunday, March 19th, 1 to 3 p.m. 2020 Main Street, Corner of Main & Warren, Penticton.
Guest Speakers: Rita Harter (formerly Rita Chretien), shares her "Mother's Day Miracle" about how she survived for 7 weeks in the Nevada Desert with only a small bag of trail mix, some Omega 3's and her faith.
A message for never giving up hope.
Surprise speakers are a common occurrence at our rallies.
Miss a week and you miss a lot!

Fighting for freedom is more fun with friends. Bring a few. Suggest a topic or a speaker, and we'll be happy to find to share their knowledge with us.   ——————————- o0o————————————- OTHERS' REGULAR EVENTS   ·      Kelowna CLEAR Rallies – 1st Saturday of each month at noon – Stuart Park, Kelowna         ·       Oliver Rally – in front of city hall – Saturdays at 12:30 p.m.         ·       Invitation to Schubert Centre in Vernon/Geoengineering Event on April 2 – See attached poster ·     
  Local Action4Canada – Tuesdays at noon, in front of Richard Cannings' Office – 301 Main Street ·       First & Third Tuesdays, Penticton Council meeting at 1. City Hall, Penticton. ·       School District 67 School Board Meetings 6:30 PM – last Monday of the month.   ——————————- o0o————————————- \
Events The Kelowna Courts of Injustice May 23-26, 2023 9:30 a.m. Kelowna Courthouse
R v David Lindsay s. 266 Criminal Code Assault From David Lindsay: After an incredible two days in court March 1st and 2nd, everyone finally got to see what the fuss is all about – and the shock even in the media was visible everywhere in the courtroom. Even opposition media, who came out in droves hoping to see some incredible fight scene to label me with, were amazed and dismayed at what truly occurred. The video, taken by one of our loyal supporters clearly showed that THEY (security guards) pushed into David, not the reverse. And more evidence is yet to come. Two more security guards, including a Paladin security official and an IH official, are yet to come, as well as at least three police officers, and defence witnesses. The amount of money being spent on this case truly shows that it is political in nature – not criminal.   He sends a big Thank You to all the AMAZING Freedom Fighters that took the time to come out and show their support. Stay tuned for the next steps.

——————————- o0o————————————-   ACTIONS OF THE WEEK        ·      Watch the National Citizen's Led Inquiry Proceedings LIVE! This is the first time in Canada's history that a Citizen Led Inquiry into the government's action has been initiated. Experience being part of history! ACTION ITEM NCI – live streaming this week, Thursday to Saturday March 16 to 18 – 8 to 5 Atlantic Time (4 a.m. to 1 p.m. Pacific) Register Here For in PERSON and ONLINE TICKETS at no charge. The live links will be emailed to you on the days of filming. ·       Visit the website: https://nationalcitizensinquiry.ca/ ·       Sign the petition. ·       Request the opportunity to speak as a witness, if you have evidence of harm to you personally or to others who might not be able to speak for themselves. ·       Pick up postcard-sized flyers at our Penticton4Freedom rallies, to share with others you meet, or to leave behind wherever you shop or dine out. · Register here for NCI updates · Click here for upcoming Hearing Dates and Locations:  https://nationalcitizensinquiry.ca/events/ –         We can't trust the Canadian Political Establishment to create truthful, unbiased rulings nor to hold themselves accountable for the harm they are doing. A Citizen-led inquiry is the only way to get at the truth and to provide a road map for the freedom movement and communities at large for preparing for the future.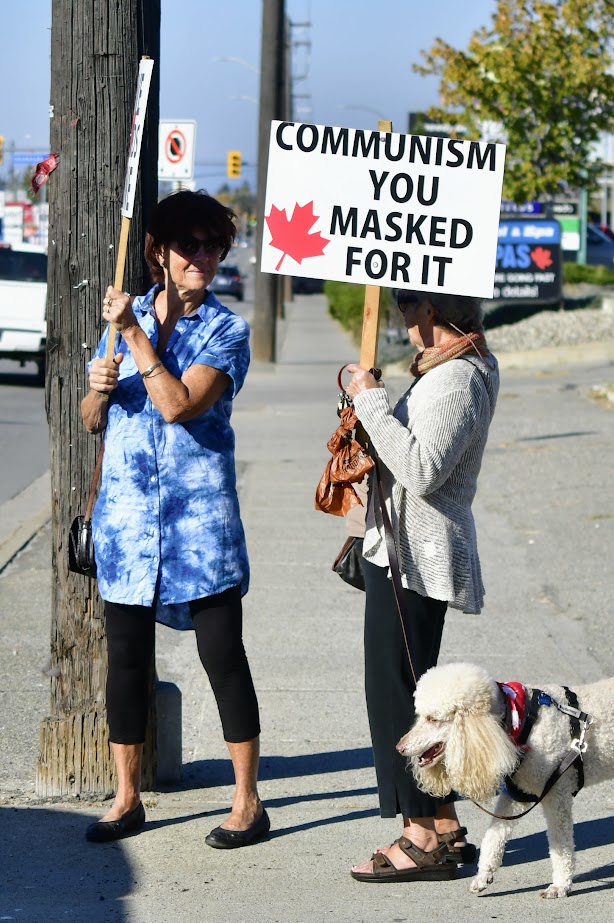 ——————————- o0o————————————- RECALL DAVID EBY We're coming into the home stretch now, for the Recall David Eby campaign. Here are the dates to submit any signatures you've gathered: · March 15 – all signatures gathered from voters who have moved from the Vancouver Point Grey Riding since the 2020 election · March 17 – all signatures gathered so far inside the Vancouver Point Grey Riding or nearby in Vancouver · Petitioning will continue through Sunday, March 19 in the riding. · Muster point – corner 4th Avenue and Vine Street · For further directions, email recalldavideby@protonmail.com or call 778-725- 0555 · https://recalldavideby.ca/ for the Bill 36/Recall David Eby story
——————————- o0o————————————-
STEP 20 Global Walkout – OPEN A PROTONMAIL ACCOUNT
If you value privacy…it's time to open a protonmail account.
You don't have to close your other accounts straight away. Just start the migrating process until your old account is no longer needed.
Reignite Freedom and The Global Walkout have led by example and migrated all our accounts to Protonmail ahead of this step so we could verify its usability. We aren't going to lie to you, there are some aspects that might take some getting used to. However, the feeling of security outweighs ANY inconveniences we encountered.
Looking through this website, a few things stand out to me
"Proton was born out of a desire to build an internet that puts people before profits, create a world where everyone is in control of their digital lives, and make digital freedom a reality. In this new world, you can communicate with whomever you want, protect your data and identity, avoid having your data sold, and safeguard against cybercrime."
"Proton exists to serve the world. Our first and only obligation is always to the Proton community, not advertisers or other third parties. We do not compromise your trust by selling your data and never will. We are committed to fighting for privacy and freedom online and will always stand up to defend an internet that serves the interests of all people."
——————————- o0o————————————-
URGENT – EXIT THE World Health Organization
To participate in this historic initiative, check the latest Freedom Rising Newsletter for details.
And while you are there, register for your own copy of the weekly Freedom Rising Newsletter to stay informed.
——————————- o0o————————————-
WORTH A LOOK
Mass Murder Charges Coming Soon


Dr. David Martin PhD – "If you think this is anything to do with health and a virus, you are delusional." If you thirst for justice, here are 12 refreshing minutes: Watch Here Video   ——————————- o0o————————————-   
The War on Dr. Charles Hoffe Dr. Charles Hoffe, a southern British Columbia-based emergency room and family doctor, was one of the first physicians to speak out publicly, pointing out the adverse reactions to COVID vaccination. He is being persecuted for telling the truth.  READ the interview with Dr. Hoffe.   ——————————- o0o————————————- 
Give the Gift of Druthers to Your Neighbours Check this out… Druthers issue #28 is here and it's another power-packed issue. We printed 300,000 copies for March. 250k copies from the fundraiser plus we purchased an additional 50k copies for our Neighbourhood Mail service. Get this issue delivered to a neighbourhood of your choosing.   Read The March Issue Covering news and information that mainstream media won't. Read DRUTHERS
——————————- o0o————————————-
Remember that Freedom Hugs are available at ALL our Penticton4Freedom events!
Let's make this weekend AMAZING!!
~ Mary Lou Gutscher
780-908-0309