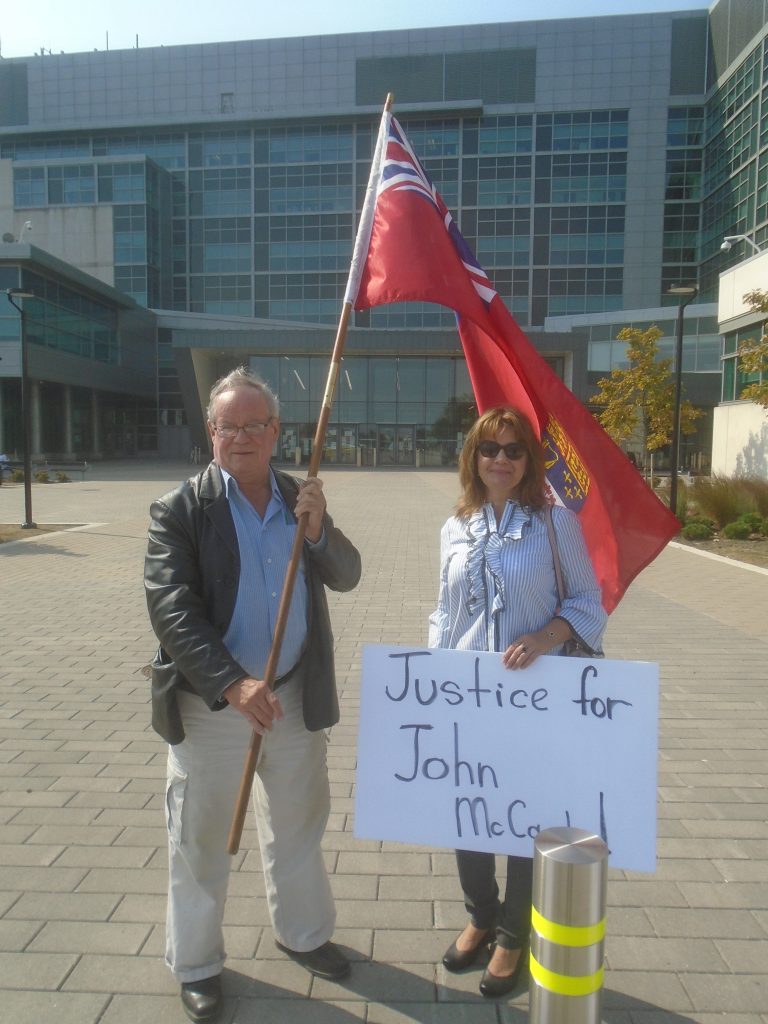 Free John McCash Protest by CAFE Outside Brampton Provincial Court
BRAMPTON, September 25, 2020. Members of the Canadian Association for Free Expression staged a protest outside the Provincial Court in Brampton, Ontario, where the latest victim of political policing during the COVID hysteria was to make his first appearance by video.
Get too mouthy opposing being muzzled like a dog, argue with some bossy clerk now acting as a mask enforcer and you might get arrested in COVID crazy Canada. "A 48-year-old Mississauga man has been charged for a … tirade caught on camera in Mississauga, Ont. on Sunday, July 5 which went viral after a White, non-mask wearing man berated staff at T&T Supermarket who told him he couldn't shop at the store without a face covering. 'If I wear a mask I will have an asthma attack and these communists are attacking all of us…go back to China and take your coronavirus with you,' said a man in a … tirade filmed by a bystander.
"The video was uploaded to YouTube and has been viewed over 280,000 times and was filmed at the predominantly Chinese-operated supermarket. It starts with a White man with his wife near him dumping grocery products from a bag on the floor while telling staff he 'will never come back here again.'  The man then goes on to threaten the staff that he'll 'have the media' here and staff can wear their masks and get sick. 'When you wear the mask, you get sick — it's science,'  he said.'" (CTV News, July 16, 2020)
"The charges were clearly political," CAFE director Paul Fromm said. "There's no crime here. Mr. McCash is being punished simply for speaking up and opposing the mask tyranny."