Click here to read in browser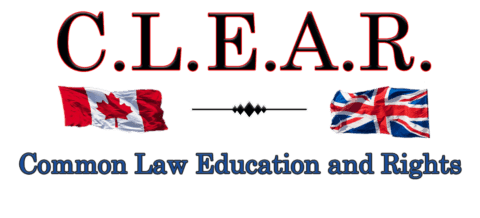 Rally's and Events
"It Ain't Over"
————————————–
Sept. 27, 2022
Recommended Kelowna Candidates:
Brian Rogers Councilor
Glendon Charles Smedley Mayor
Ron Cannan Councilor
School Dist. #23 Trustee
Chris Fieber (ParentsVoice BC)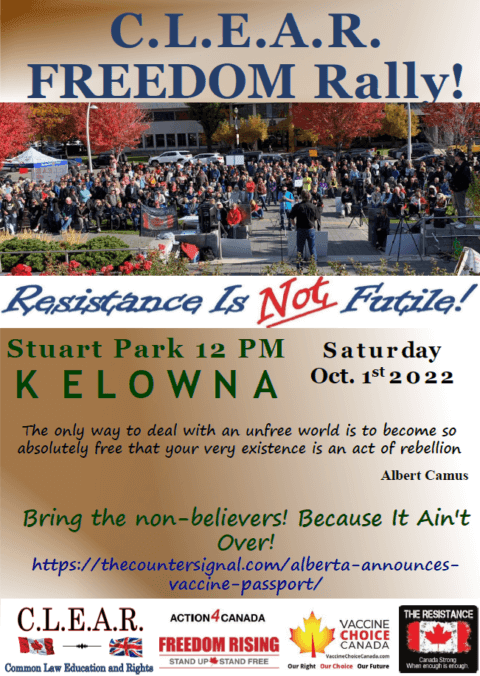 B.C. Doctors continue to courageously trailblaze! Don't miss out!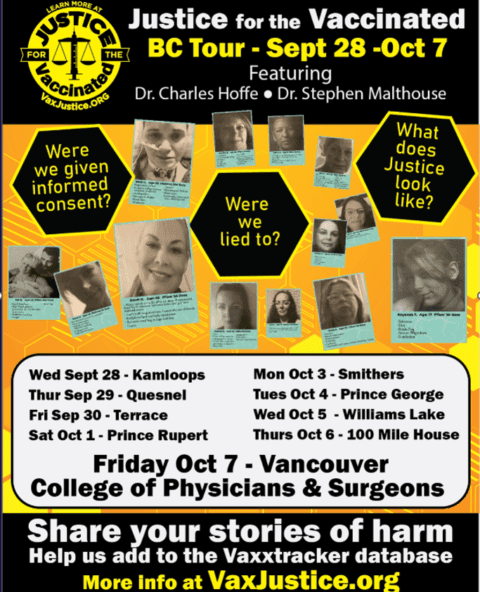 Kelowna will be part of the 2nd leg of this tour. More info will be forthcoming in the near future. Stay tuned!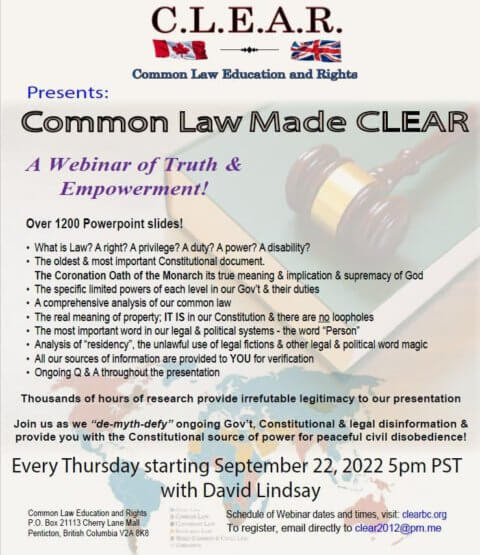 Years in the making…
Next Webinar is on Sept. 29, 5:00 pm PST – an awesome start to a Webinar series!
Many myths and much disinformation have circulated for
years about our common law, our Constitution, our rights and freedoms, and other important topics.
This incredible Webinar series will finally provide irrefutable documentation confirming the true source of our property rights and the supremacy of God in our Constitution – and why we should be thankful they are NOT in the Charter!!
If you want answers to what your common law and Constitutional rights and freedoms are
Definitions and applications of the most important words in our law
Where your Constitutional right and power of civil disobedience to all unlawful statutes and orders originates
How Gov'ts and judges use "legal fictions" to steal your fundamental rights and freedoms from you
What limited rights, powers, and duties Gov'ts truly have
And much, much more….this is the Webinar series you have been waiting for!
We provide all sources of our research for verification purposes!!
By registering to this Webinar series, you will have
downloadable access to each presentation you have registered to watch!
Never forget important information again!
For more information, go to:
Clearbc.org
For registration information, email us at:
Freedom Lover or Freedom Activist?
Paper Deliveries
Freedom Lovers appreciate freedom. Freedom Activists fight for it. If you're not a Freedom Activist, you will loose the freedom you love. The days of watching the brave people stand up for freedom are over. It's time to become one of those brave people because if you're not actively exercising your rights every day in every way, your loss of freedom will be your burden to bear.
What does a Freedom Activist do when government breaks the law and tells you they are taking your rights away? Exercise them! Because they can't actually take anything away from you. They use fear tactics to get you to GIVE them away. And once you do that, good luck getting them back in this lifetime.
Over the next few weeks, we'll discuss what types of things you can do as a Freedom Activist. Today, we'll talk about the power of sharing truth, facts and information.
Knowledge and education are the key to informing people who are still living under media's spell. These people will never come to our rallies, and many probably never even heard of us. So, we have to reach out to them! A small group of die-hards have been distributing Truth-based papers like Druthers, Pandemic Papers and Common Ground since the middle of August. Each paper is stuffed with 2- 3 flyers including a Rally Card (with a link to last spring's Grand Jury discussions), a Mask &/or PCR Flyer and an Informed Consent brochure. Different inserts are used depending on what stock is available at the time.
We have received encouraging feedback from some recipients who felt alone until they saw the paper in their mailbox. Although we may occasionally run into an unappreciative individual, the potential benefits to thousands of people as a result of us planting these "seeds" makes it worthwhile.
WE NEED YOUR HELP! It takes about 1 1/2 hrs. for two people to cover an area provided on a map. With 4 – 6 people each Sunday, we've been delivering an average of 500 papers per week. Even if you have mobility issues, you can do rural areas by driving from place to place and have a passenger who can drop off the paper in each mailbox. The more volunteers that help, the more people we can reach before the snow flies. We are not planning to do this forever. This is not about becoming newspaper boys and girls. Once people see the paper and the flyers, they are provided with enough info and resources to take action and learn more if they wish.
What's great about this endeavour is there is almost zero confrontation. You don't need to have conversations with anyone. People don't feel pressured to accept or read something new. The media has conditioned their captive audience to have a knee-jerk reaction against anything that questions the narrative. So, this makes it very difficult to have intelligent and logical conversations with people. But in the privacy of their own homes, away from prying eyes and peer pressure, there is a greater chance that they will read and consider the information. Especially since the mandates have not returned yet, there is less pressure to conform. That is why it is SO CRITICAL to get the information out there NOW!
So please sign-up on the flyer distribution sheet at our CLEAR booth at our Sat. rallies, to get the emailed location and be there for 11:30 am on Sundays. If you arrive on time, we can divide the papers and get the deliveries done quick so we can still have time to enjoy the rest of our day. Remember, many hands make for light work!
Here are just three of the inserts we distribute every week, in each Druthers and/or Pandemic Papers:
————————————–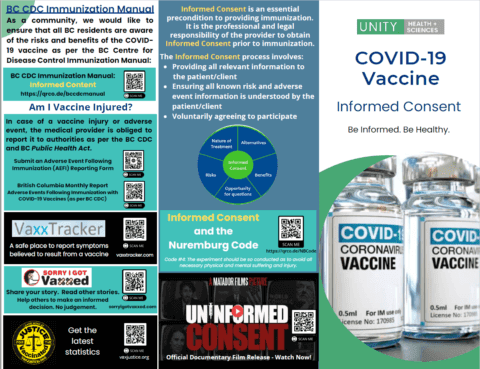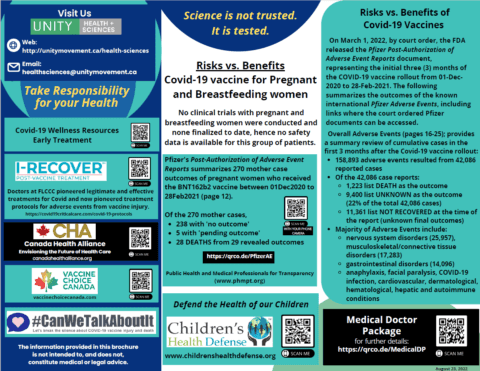 Contact Unity Health & Sciences Team to volunteer to distribute their professional brochures and Medical Doctor Packages throughout your home area, and to your medical doctor!
Not every doctor, analyst, and specialist is on the gov't side and many have strong science and personal experiences opposing the gov't narrative.
———————————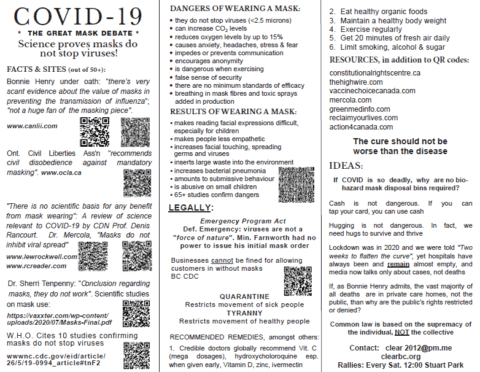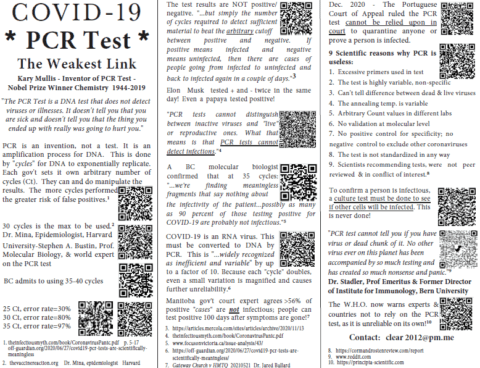 ————————————–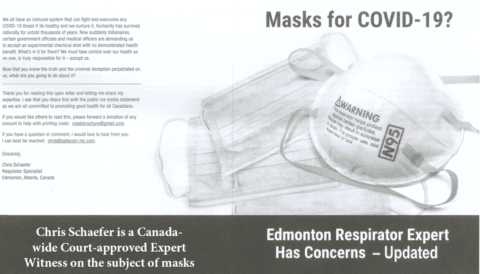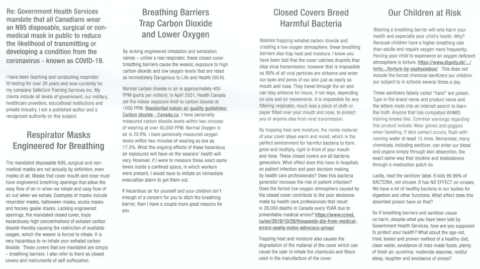 ————————————–
Thank you Ted for this inspiring pix!!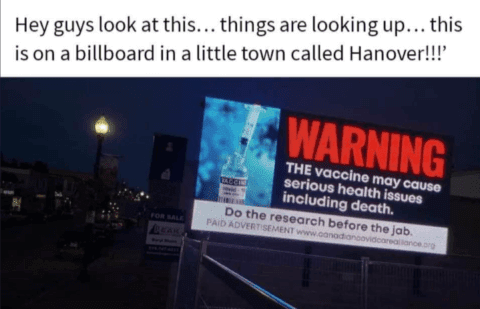 ————————————–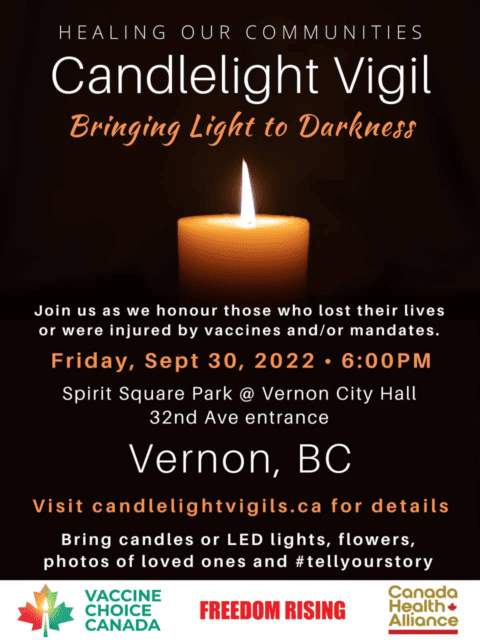 ———————————
If you want the criminals out of power – we need to run for office – NOT RUN AWAY!!!
37 B.C. mayors win by acclamation after standing unopposed
https://theprovince.com/news/local-news/37-bc-mayors-win-by-acclamation/wcm/a5b60217-5470-4bf6-8a8b-f6fbd11ac2fc
These Mayors, many of whom are likely corrupt to the core, have been returned to office simply because no one ran against them. How can we complain if we don't oppose them?
Vote only for people who value freedom!
Municipal Elections
REMEMBER:
———————————
From Vaccine Choice Canada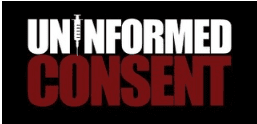 Please obtain a copy from Tom on Saturdays and pass along to informed and uninformed alike!
Or watch here: https://librti.com/uninformed-consent
————————————–
Is it OVER????? No.
Everyone is aware that the previous lockdown restriction in relation to traveling were set to expire on Sept. 30. But what was then to happen? Recently the Federal Government has publicly announced that it is dropping quarantine and isolation requirements, as well as the mask requirement for flying or riding on trains. From MSM:
https://www.ctvnews.ca/politics/canada-dropping-travel-mask-mandate-and-ending-covid-19-border-and-quarantine-restrictions-1.6084119
But as we have said, the danger is not over. These gov't officials continue to state that it is their God-given right/power to bring these restrictions back at any time they "deem" it necessary or even just advantageous to so do. Put another way, your rights and freedoms are simply toys for the gov't to play with as it wills. It stops when it gets tiresome, and they will start again when they desire to play with you again.
We need to make sure that these govt's know that they can never do this again…ever.
Rumours are already circulating as to why this is happening now. Trudeau has already publicly stated that he will be running for the Liberals again in the next Federal election. Why would these comments be made at this time? Clearly, he is priming people for the inevitable, knowing that he cannot rely upon the NDP support for too much longer.
https://theconversation.com/not-again-why-another-federal-election-may-be-on-the-horizon-in-canada-190640
Another reason for dropping these restrictions is that the Feds know that almost all deaths due to COVID-19 (putting aside for the moment the falsified PCR test results and manipulation of actual co-morbidity causation), have been among the triple vaccinated, not the unvaccinated. They know that masks and vaccinations, with or without quarantine, are simply not working – and cannot work.
I submit that a further reason is to bolster the Gov'ts defence in the Pickford Constitutional Challenge, alleging that the challenge is moot because these restrictions are no longer are in place. I suspect that they will not get far with that defence, while simultaneously admitting that they can put these restrictions back in place at anytime and are prepared to so do.
View the information on this link below for some of the best analysis on the Federal Gov't's corrupt manipulation of COVID-19 statistics.
————————————–
Hands-on Help!!!
Each Sunday, for as long as we can, we are delivering Druthers/Pandemic Papers Publications, including CLEAR rally cards and other important inserts such as our Masks/PCR brochure, and the recently released UNITY Health & Sciences brochure, for door-to-door delivery to all the mail boxes in Kelowna
Though labour intensive, the outings are enjoyable and productive
But we need YOUR help!
There is simply no other way we can reach so many people who have believed the Gov't/MSM narrative/lies
Join us each Sunday by signing the CLEAR Newspaper Delivery Sign Up Sheet at the CLEAR table & providing your EMAIL address to Linda & Nikki.
We need about 8-10 people to deliver about 100 flyers each – only about 90 min.
Each Sunday we will meet at a specified location to be announced by email on Saturday night. Start times will be 11:30 a.m.
On a recent Sunday, a recipient of our flyer delivery was so inspired, he immediately assisted to deliver flyers for the rest of the day!! Thank you!
————————————–
Public Emergencies Act Hearings
NOTE:Allegedly due to an unexpected surgery for the Commissioner Paul Rouleau, these hearings, if you wish to make submissions, have been delayed one month and are not set to start on Oct. 13 and to end in November.
https://www.lifesitenews.com/news/breaking-hearings-into-trudeaus-use-of-the-emergencies-act-delayed-for-at-least-a-month/
Date: Sept. 19 – Oct. 28 (Oct. 13 start now)
Location: Library and Archives Canada, Ottawa
Live streaming
Commissioner Paul Rouleau said in a statement that he intends to hold the government to account and wants the inquiry to be as "open and transparent" as possible.
Hearings will be livestreamed online and members of the public will have opportunities to share their views, with a final report expected early next year.
NOTE: See if you can contact Paul Rouleau and determine how you can make submissions to this inquiry, especially if you have new or important information to share that has been kept from Canadians by our corrupt Gov'ts and media.
————————————–
CLEARBITS:
https://www.theepochtimes.com/the-covid-unvaccinated-are-the-control-group-heres-how-they-fared_4745779.html?utm_source=mixi
Did the COVID Unvaccinated Fare Better or Worse Than the Vaccinated? The Results Are In
To no surprise – in OUR favour!
—————————————
Europe suffers horrifying 755% increase in Excess Deaths among Children since EMA approved COVID Vaccine for Kids
—————————————
Pfizer accidentally proves original COVID Vaccine destroys the Immune System after publishing Study for new Omicron Jab
—————————————
Freedom Rallies
"It ain't over till it's over"
Kelowna, BC
October 1, 2022
+25° – Sunny
(subject to change without notice!!! lol)
12:00 noon
+ The CLEAR Information Table
Stuart Park
Because It Ain't Over!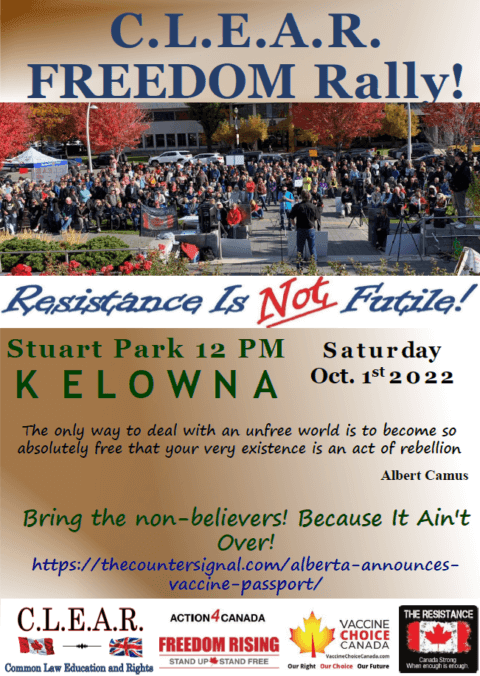 —————————————
October 1, 2022 12:00 noon
Vernon Freedom Rally
12:00 a.m. – 2:00 p.m. @ Polson Park
Join Darren for the Largest rally in the North Okanagan, and growing weekly!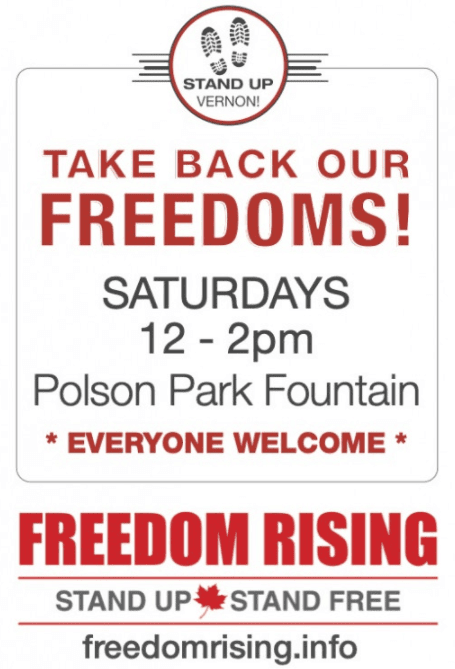 North Okanagan Shuswap Freedom Radio
http://s1.voscast.com:11464/stream
—————
October 1, 2022 11:30 a.m.
OK Falls Freedom Rally
11:30 a.m. Across from Esso Station
Join the OK Falls freedom activists continuing their local Freedom Rallies!
—————
October 1, 2022 12:00 noon
Oliver Freedom Rally
12:00 p.m. Town Hall
Join the Oliver freedom activists who are continuing their local Freedom Rallies!
—————
October 1, 2022 11:00 a.m.
Osoyoos Freedom Gathering
11:00 a.m. – 12:30 p.m. Town Hall
—————
Kamloops Freedom Gathering
October 1, 2022 10:00 – 12:00 Noon
Valleyview Centennial Park
—————
October 2, 2022 1:00 p.m.
Penticton Freedom Rally
1:00 p.m. Warren & Main St. in N.E. lot
Join Mary Lou for the largest rally in the South Okanagan, and growing weekly!