Join the C.L.E.A.R. Convoy Rally in Kelowna, February 12, 2022
Common Law Fundamentals
Fundamental principles cannot be set aside to meet the
demands off of convenience or to prevent apparent hardship
Quote of the Week
When we examine the tyrannical responses of governments, health officials and just plain Canadians who think those opposing the lockdowns and restrictions are wrong, I cannot but rely on the historical quote from a U.S. Statesman. The following quote supports my view that these people opposing us should be stripped of their rights and freedoms as they do not deserve what our forefathers and many of us have sacrificed for.
"Those who deny freedom to others deserve it not for themselves."
Abraham Lincoln
Kelowna Convoy Rally New Update – February 12, 2022
As we mentioned last week, we will have a local convoy this weekend in the Kelowna area.
This coming Saturday's rally will begin at 12:00 noon sharp, until about 12:30 or so. We will leave Stuart Park to then meet up at the Prospera Place parking lot.
Our local slow roll convoy will start in the Prospera Place Parking area, at 1:00 p.m. on Saturday, February 12, 2022.
Please park at Prospera Place if you are able to walk to our rally at Stuart Park. Other vehicles will proceed after the rally to Prospera Place, 1223 Water St. and meet in the parking lot. The lead vehicle will be the following: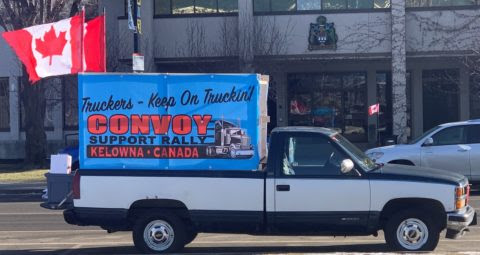 (Everyone is encouraged to wave flags or have signs against the lockdowns)
We will all exit onto Water St. at approximately 1:00 p.m., and proceed north on Clement to Ellis. Then we will turn right on Ellis and proceed to Harvey St. (Hwy 97) and turn Right onto Harvey and proceed across the Bennett Bridge into West Kelowna to the Glenrosa overpass and turn left over the highway and heading north on Hwy 97 to UBC.
NOTE: At all times on Harvey St./Hwy 97, we will be in the right-hand lane or, where there is an HOV lane in Kelowna, we will be in the middle lane, at all times.
We will cross over Hwy 97 on the bridge, and then head back north on Highway 97 back to Kelowna to UBC.
Everyone will take the off-ramp to UBC and cross over Highway 97 to an immediate traffic circle on John Hindle Dr. We will go around this circle and take the ramp back onto Highway 97 going south again back to Ellis St., and then to Clement and then back to Stuart Park to socialize.
People will also be welcome to stay in the park until our return.
The RCMP have contacted us and requested that we ensure everyone is made aware that they should not sit on car door windows or hang out doors, or sunroofs. Please comply so we have no complaints from the police.
Also, please obey all traffic lights and signs at all times as we will be doing a slow roll during this convoy. We will not be speeding or driving dangerously. You can always catch up if you miss a light!!!
MAPS Below
1
2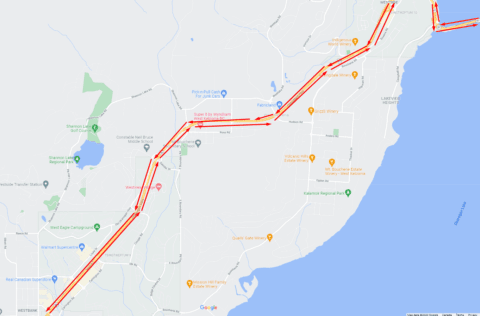 3
4
5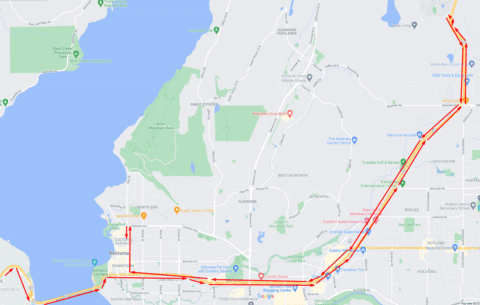 6
News Release – Urgent Message to Canadians
***IMMEDIATE NEWS RELEASE***
We, the undersigned, wish to make the following statement based on the fluid, unfolding events in Ottawa in relation to the Freedom Convoy.
The Charter of Rights and Freedoms guarantees every Canadian's right to peacefully assemble and the right to protest.
For nearly two weeks, Canadians with their families and children from all over the country from different ages, races, ethnicities, religions and beliefs have gathered in our Nation's capital to exercise this right in unity, peace and love.
Many of the undersigned have attended and are still present in Ottawa. We have witnessed peaceful demonstration and have observed multiple acts of humanity which define what it means to be Canadian. These acts include providing meals to the homeless population, tidying the streets of trash and snow, keeping watch of the tomb of the unknown soldier and other monuments and assisting business owners with tidiness while providing patronage to their establishment. There is overwhelming evidence to substantiate what we have witnessed first-hand.
The corporate media's coverage of these events does not accurately depict what is transpiring.
The government's decision to block refueling of the trucks puts fellow Canadians and their families including their young children in danger due to the extreme cold temperatures currently occurring in Ottawa. Regardless where one stands on this topic, these actions are inhumane and do not align with Canadian principles.
The spirit of the protest in Ottawa is that of peace and coming together as a nation. We will continue encouraging the non-violent nature of the protest and non-interference with emergency vehicles and businesses established in the area.
If Canada truly is a democratic nation, then we call on our duly elected members of government to engage in meaningful dialogue consistent with the Charter of Rights and Freedoms. Unjustly labelling those protesting the unconstitutional public health orders as terrorists, racists and misogynists is unacceptable and creates further divide.
"I am a Canadian, free to speak without fear, free to worship in my own way, free to stand for what I think right, free to oppose what I believe wrong, or free to choose those who shall govern my country. This heritage of freedom I pledge to uphold for myself and all mankind." – John Diefenbaker, July 1, 1960 from the Canadian Bill of Rights.
Signed,
Police on Guard
Mounties 4 Freedom
Action4Canada
ACT! For Canada
Stand up Canada
Take Action Canada
Mama Bears
Police for Freedom
Vaccine Choice Canada
Canadian Frontline Nurses
Canadian Citizens for Charter Rights and Freedoms
Rick Nicholls – Deputy Leader Ontario Party, MPP Chatham-Kent-Leamington
Harold Albrecht – Retired MP – Kitchener Conestoga
Derek Sloan – Leader Ontario Party
Dean Allison – MP for Niagara West
Randy Hillier – MPP Lenark-Frontenac-Kingston/No More Lockdowns
Larry Sault – Former Chief and Grand Chief in Ontario/ Indigenous Consultant (Present)
C.L.E.A.R – Common Law Education and Rights
The world's most unlawful restrictions on freedom are collapsing! And not a moment too soon.
Czech Republic: cancels proof of vaccination for public events, bars and restaurants, and most other restrictions by March 1, 2022. Mandatory testing at schools and companies is over.
Sweden Feb. 3, 2022
All restrictions end on February 9, 2022, including all vaccine and mask mandates, and no restrictions in public restaurants.
Denmark Feb. 1, 2022
Lifted almost all restrictions – does not consider COVID-19 to be a "socially critical disease"
England January 26, 2022
Masks not required in public and work from home has been cancelled.
Norway February 1, 2022
Lifted ban on serving alcohol after 11 p.m. and private gathering limits. No social distancing requirements.
Alberta Vaccine passport ending immediately. Feb. 13, no masks for students. March 1 – no indoor masks, no work from home requirements, no capacity limits on social gatherings.
Sask. Feb. 14
No more vaccine passports and will not renew indoor mask mandate upon expiration in March
Quebec Most restrictions lifted by March 14. Immediately, no restrictions on private gatherings, bars reopening on Feb. 28, and full arenas March 14.
But let this not sway you into complacency. We have seen roll-out COVID-19 lockdown ending plans in the past and then cancelled. Many of these may be conditional upon certain medical stats (most of which are falsified as we know). For example, Quebec is continuing its vaccine passport system. B.C. has continued to refuse to back off on its masks and vaccine passport requirements.
Protests have spread to the Ambassador Bridge (Detroit-Windsor), Coutts Alta., and hundreds of cities and towns across the country.
But we are far from over in this war, which will only end when:
Trudeau, Bonnie the Commie, and other health officials and politicians, are charged and jailed for their crimes. Unknown numbers of people have died and/or suffered because of their attempts to play God.
All media officials who made the decisions to only report the gov't narratives, are similarly charged and jailed. They conspired, aided and abetted in the criminal activities by our gov'ts and the theft of our Constitutional rights and freedoms could never have happened without the media – as Rockefeller readily admitted years ago.
All mask, vaccine, social distancing and other mandates (sanitizers) come to a complete and unrestricted end. All forms of transportation are returned back to normal with no mask and vaccine conditions, nor testing. All school and public restrictions are lifted.
All incoming replacement public officials know that this activity WILL NEVER HAPPEN AGAIN. We will not wait two years to take action against them – it will be two days!
—————–
Who's got egg on their face eating Crow?
has hit a new low
Lies, deceit, propaganda and slander
Mainstream media's days are numbered!
—————–
Are more Financial Restrictions and Privacy Rights Violations to the Public coming?
Ontario Superior Court issues an Order freezing access to GiveSendGo donations.
Note that most of the MSM articles simply copy each other and/or the Press Release from the Ontario Gov't. Much of course is omitted.
In a further attempt to prevent lawful opposition to unlawful Federal Government rights and freedoms deprivations, the Ont. Gov't claims to have obtained a court order freezing access to the funds send to the Christian fundraising organization, GiveSendGo.
However, it is unclear what effect this will have. GiveSendGo, states on a recent Tweet:

Is this because it is an offshore platform and not subject to the Court's jurisdiction? Remember Courts only have jurisdiction over the person, the subject matter, and place.
An organizer of the convoy, Chris Barber, stated that the truckers are not going anywhere and this type of activity will only make things worse and bring on more protests. Also see this incredibly inspirational video from the truckers and supporting medical professionals issued this past Sunday:
An all Party, House of Commons Committee heard testimony this week from various financial organizations, including FINTRAC. Deputy Director of FINTRAC Barry MacKillop stated that, "The intersection with the crowdfunding platforms and our financial institutions is a must in order to disperse the money." Put another way, FINTRAC cannot do anything if the banks are not involved. And they are not.
Other options such as Bitcoin are unaffected by this Order and it appears that there is going to be a game of cat and mouse, as the Governments try to steal people's property to justify their criminal activities.
Be wary of forthcoming legislation now where the Federal Government will try and pass legislation that expands the powers of FINTRAC to including crowdfunding and similar organizations, as well as requiring the banks to transmit information to FINTRAC if it suspects monies are being used to donate to crowdfunding organizations.
Then the next step will be to prohibit funding to organizations through crowdfunding that you wish to support. Or penalize you for so doing. The Feds are going to use this situation to further destroy your property and privacy rights in the process. For example, one of Canada's Fake News reporting services stated in a recent article: "Earlier Thursday, NDP MP Alistair MacGregor announced the committee would hear directly from representatives from GoFundMe about what measures it has in place to prevent the funding of extremism."
If your money is in the bank, get it out before you can't!
—————–
Lost your employment? You may wish to investigate more and more sites offering employment without masks or jabs. Being unvaccinated is not a permanent obstacle to future employment!
—————–
CLEAR Telegram
With over 720 members now and growing, join us in our C.L.E.A.R. Telegram group! Please remember: no foul language or vulgarity for any posts, keep posts relevant to today's freedom issues, humour is fine, be respectful at all times. Government officials, agents or their posts are not accepted. Please ensure as best you can, that material you post is accurate and correct. Posting false or incorrect information is not acceptable. Help us ensure all posts are verified for correctness. This is a private group for trusted people and friends only.
—————–
Rallies
Freedom is a multi-generational struggle. Our objective is to retain more rights and freedoms each year.
February 12, 2022 12:00 noon Stuart Park Regular Freedom Rally and Kelowna Convoy
Immediately after our rally at Stuart Park, we will move over to Prospera Place to leave at 1:00 p.m. Vehicles will leave Prospera Place for a convoy through West Kelowna, back through the City to UBC, and back again to Stuart Park.
Those who wish to join us are urged to park their vehicles at Prospera Place before the rally and walk back after we are finished at Stuart Park, so we can leave Prospera Place to drive out on the convoy.
Police have advised that they will be on hand to direct traffic so that there won't be any circling between the two roundabouts in front of the Park.
February 12, 2022 Vernon Freedom Rally
12:00 Noon Polson Park
Join Darren for the Largest rally in the Northern Okanagan, and growing weekly!
February 12, 2022 Oliver Freedom Rally
1:00 p.m. Town Hall
Join the Oliver freedom activists who are now just beginning their local Freedom Rallies!
February 12, 2022 Osoyoos Freedom Rally
1:00 p.m. Hwy 97 – both sides – South of Hwy 97 and Hwy 3 intersection
Join the Osoyoos freedom activists who are now just beginning their local Freedom Rallies!
Demands for Freedom are spreading rapidly!
February 13, 2022 Penticton Freedom Rally
1:00 p.m. Warren & Main St. in N.E. lot
Join Mary Lou for the largest rally in the Southern Okanagan, and growing weekly!
February 19, 2022 12:00 noon Stuart Park Regular Freedom Rally
Jacquelyn-Rose will be our featured MC and singer! Followed by our highway rally.
If you wish to join the Salmon Arm – Osoyoos convoy – we urge you to meet at the Kelowna Rec Centre, next to the overhead walkway on Harvey St. at 10:45 a.m.
You can exit from the Rec Centre on to Harvey St. as the convoy rolls through sometime after 11:00 a.m. Details in next week's Newsletter.
February 26, 2022 CLEAR MEGA RALLY & MEGA MARCH
12:00 noon Stuart Park
Speakers: Tanya Gaw Action4Canada
Ted Kuntz Vaccine Choice Canada
Beatrice Weir Vernon Activist
Jennifer Former KGH professional nurse
Featuring the Okanagan's very own: Jacquelyn-Rose as MC and Singer!
NOTE:
Though CLEAR is having our own local convoy this coming Saturday, Feb. 12, (our last convoy two weeks ago had over 600 vehicles just in Kelowna!), the Salmon Arm convoy will also be coming through Kelowna between 11:00 – 11:30 a.m. or so. We can hear them from the Park! Their convoy last Saturday was an estimated 1000 vehicles and 20 km long!!! Wow – the sound of Freedom will echo throughout the Valley!!!