Visit to German Political Prisoner Horst Mahler — Imprisoned to Questioning the Hollywood Version of World War II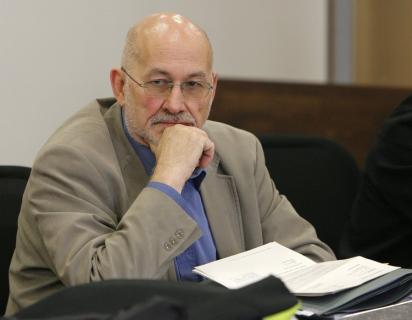 Oct 10, 2017 visiting Horst Mahler,
German Excerpt with English below in red :
Es freute uns sehr, Horst Mahler in akzeptablem Zustand, den Umständen entsprechend, wieder zu sehen. Sein Geist ist ungebrochen und in den Gesprächen
We are very happy to find Horst Mahler in an acceptable state, considering the circumstances, to see him again. His Spirit is unbroken and in our conversations
sprühte er vor Zuversicht. Diese Zuversicht bezog sich nicht auf das Wohl seiner Person, vielmehr auf den Ausgang des Kampfes. Seine Worte "Nicht ich bin
he sparkles with confidence. This confidence was not in reference to the wellbeing of his person, but it is in the end result of the battle. His Words " Not I is 
angeklagt, sondern mein Buch und die Wahrheit die aus ihm spricht", machen uns wieder deutlich, wie richtig er mit seinen Erkenntnissen über den Feind der
accused, but my book and the truth that is revealed in it", will confirm to us again, how right he is with his recognition of the enemy that
Völker liegt. Horst Mahler klagt nicht über seine Situation, befürwortet kein Mitleid und erst recht keine defätistischen Ansichten. Sein Wollen ist der Kampf
lies over the People. Horst Mahler is not complaining about his situation, seeks no sympathy and especially has no defeatist attitude. His goal is the fight
gegen den jüdischen Ungeist durch das Erwachen des deutschen Geistes.
against the Jewish Daemon through the awakening of the German Spirit.