Another Pinched, Petty Victory for Political Correctness: Terry Jones Kept Out of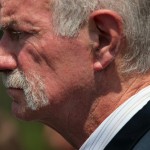 Canada
Political correctness is a mean, petty creed, the modern anti-religious successor to its pinched Puritan ancestors.
Pastor Terry Jones is a controversial Floridapreacher who was invited to come to Canadato participate in a debate on Islam. At first, things looked hopeful. The National Post (October 9, 2012) reported: "Invited to speak in London, England, last year, Terry Jones, the Florida pastor who gained notoriety for his "International Burn a Koran Day," never made it because the British government barred him from entering the country for 'the public good.'
But with Mr. Jones scheduled to speak inTorontoon Thursday to argue that "Islam is not compatible with Western society," Canadian immigration officials are saying there is little they can do since they lack similar powers.".
Never underestimate the devious ability of bureaucrats to undermine free speech. Canada Border Service which couldn't effectively keep out a shipload of Tamils brought in by the Tamil Taiger teerrorists or effectively prevent repeat visits by Jamaican gangsters already deported were lying in wait for aU.S.pastor and they figured out a way to deny him entry toCanada,
The Toronto Star (October 11,2012) reported: "Jones, who leads Florida's tiny Dove World Outreach Centre, was held up for four hours earlier Thursday at the Windsor border crossing, before being denied entry into Canada to attend the evening event outside the Ontario Legislature.
The vehicle Jones shared with Pastor Wayne Sapp, as well as their cellphone records and computers, was searched while the two were interrogated by Canada Border Services Agency about the intent of their visit and what he was prepared to preach at the event.
Authorities also seized two 1-by-1.5-metre cardboard signs that said, "Koran burning site" and "Islam is the new Nazism."
"Dr. Jones is obviously very disappointed. It's a big blow to him and all of us," said his spokesperson, Fran Ingram, inFlorida. "This is not about him. This is about free speech in the West."
In barring Jones, border officials cited a fine he got in Germany in 1993 for using the title "doctor" there (as a recipient of an honorary doctorate in theology), as well as a criminal charge of breaching the peace at a planned rally in Detroit last year.
Ingram said Jones got both decisions overturned on appeal. However, unconvinced border officials demanded proof."
Talk about petty! Whether he calls himself Reverend, Doctor or Grand Pooh-bah seems irrelevant.
There is, of course, a strong Christian-hating element inCanada's elite. However, the ostensible reason for twisting regulations into unsavory pretzels were that the pastor's views might drive radical Moslems to violence.
Thus, Jonathan Kay of the National Post (October 10, 2012) supported keeping Pastor Terry Jones out ofCanada: "But neither man is a Canadian citizen. Our government doesn't owe either of them a podium. And so the decision whether to let Jones into the country to deliver a hate speech in front of the Ontario legislature on Thursday shouldn't necessarily be governed by the same free-speech standard contained in Brandenburg, or even by Canada's (less permissive) hate speech laws.
A more sensible approach is to look past Jones' intentions, and examine only the single practical question of whether his speech inCanadais likely to cause violence. Based on precedent, I'd say the answer is yes."
Two huge errors. Pastor Jones never got a chance to give his speech. Thus, Kay's labelling it a "hate speech" is utterly unfair and speculative. So too is his speculation that his speech might cause vioence. Actually, his speech wouldn't cause violence. The violence would come presumably from yet another mistake in Canada\s immigration policies – letting radical Moslems immigrate toCanadaand not insisting that they conform to Canadian ways and tolerance of others' religious views.
For years I have warned that multiculturalism would cost us many of our rights, including free speech. The banning of Pastor Jones fromCanadais a clear example. His right to speak was violated as well as the rights of Canadians to hear his views and hear a debate.
The mere threat of bad behaviour by poorly screened immigrants was enough to send our politically correct establishment scurrying to twist the rules to keep the pastor out.
Too bad Pastor Jones is an honest Christian who told the truth when he tried to cross the border. He should have used another name and told the border guard: "I'm a refugee/" Of course, the claim would seem preposterous. No matter, at this point being a "refugee claimant," he'd be allowed in. Even though it would be obvious he was lying about his identity, the mere lie, according to immigration regulations, wouldn't be enough to send him back or at least incarcerate him. If the pastor wished to speechify or debate inCanadafor a few weeks, he'd be given welfare and public housing, If he needed some dental work done, no problem. If he needed a mole removed or a general check-up, Canadian medical services would be at his disposal.
But, to honestly come toCanadato express a controversial opinion or two no way!
In a related issue, the Toronto Sun (October 12, 2012) asked its readers: "Do you think anger towards the anti-Islam film is justified?"
Yes, it is      blasphemous: 7%; 855 votes
*     No, it is freedom of speech: 68%; 8374 votes

Only if it doesn't include violence: 21%; 2555 votes